Last Updated on January 4, 2022 by Jordan Pate
2020 has been a year that many of us are ready to move on and forget. Personally, I am all in favor of putting 2020 in the rear view as well but if with fishing as good as it has been, I sorta hope things stay the same for a little while longer.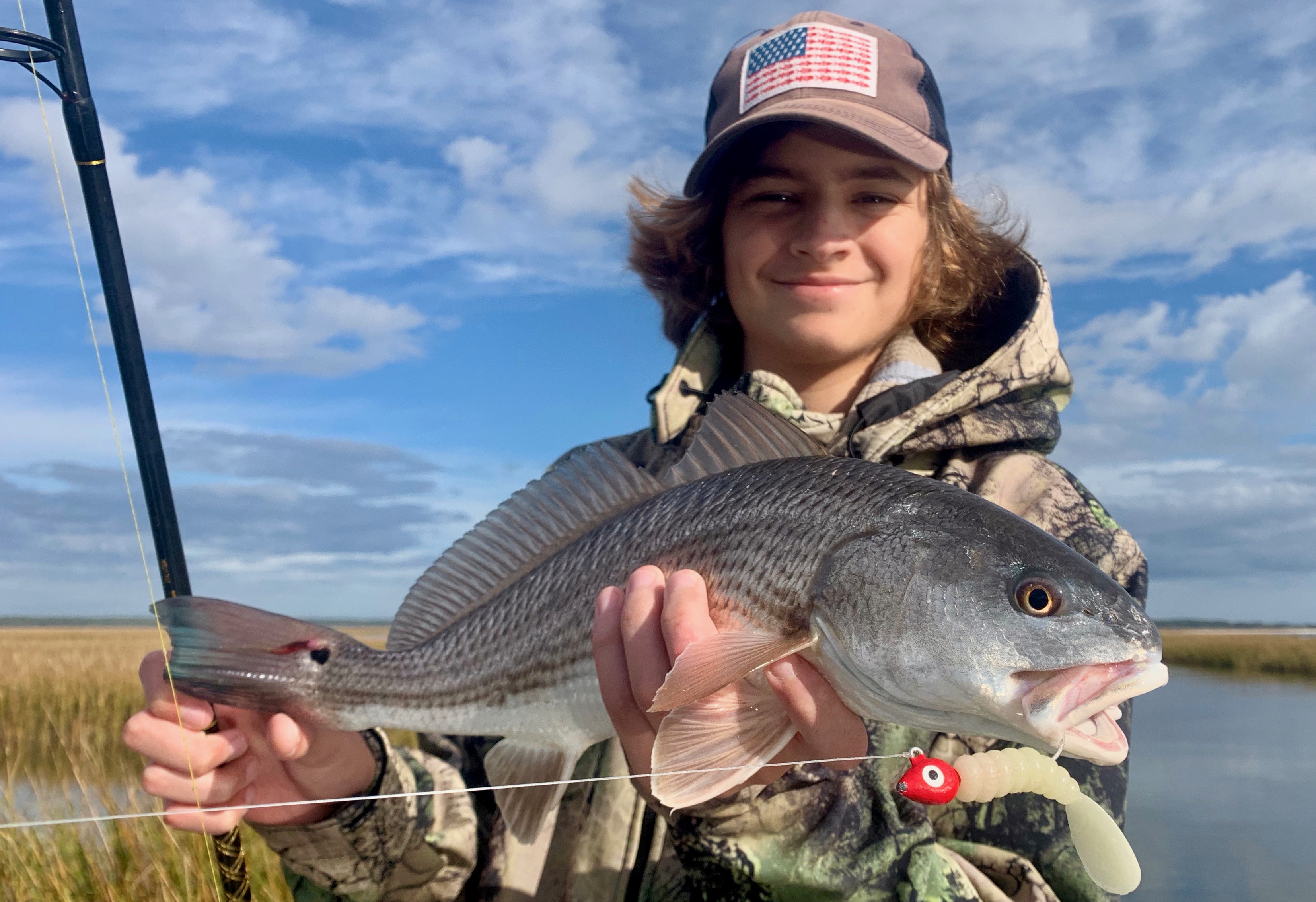 The bull redfish bite was incredible to say the least and I was able to spend a good amount of time fishing some different areas along the South Carolina coast, locating schools of breeding redfish. "Run and Gun" tactics allow me to cover a lot of ground in the ocean, looking for birds, oil sheens, or mud plooms caused by breeding red drum. My water depth varies from 8-20ft and I prefer not to target redfish in water depths more than 20ft to risk injury caused by Barotrauma(fish caught in deepwater will often experience an expansion of gases in its swim bladder causing permanent injury or death). Once I mark redfish in an area, I'll instruct my crew to begin casting swimbaits, bucktails and various soft plastics(more on this in a different report). Most of these breeder fish average 20-25lbs and it is very important that we take extra care with these fish since they are the future of the redfish stock throughout the Southeast coast. Avoid holding large fish vertically, excessive amount of time out of the water, taking pictures of every single fish you catch, and a quick and healthy release. I will also pinch the barbs on hooks when the bite gets wild.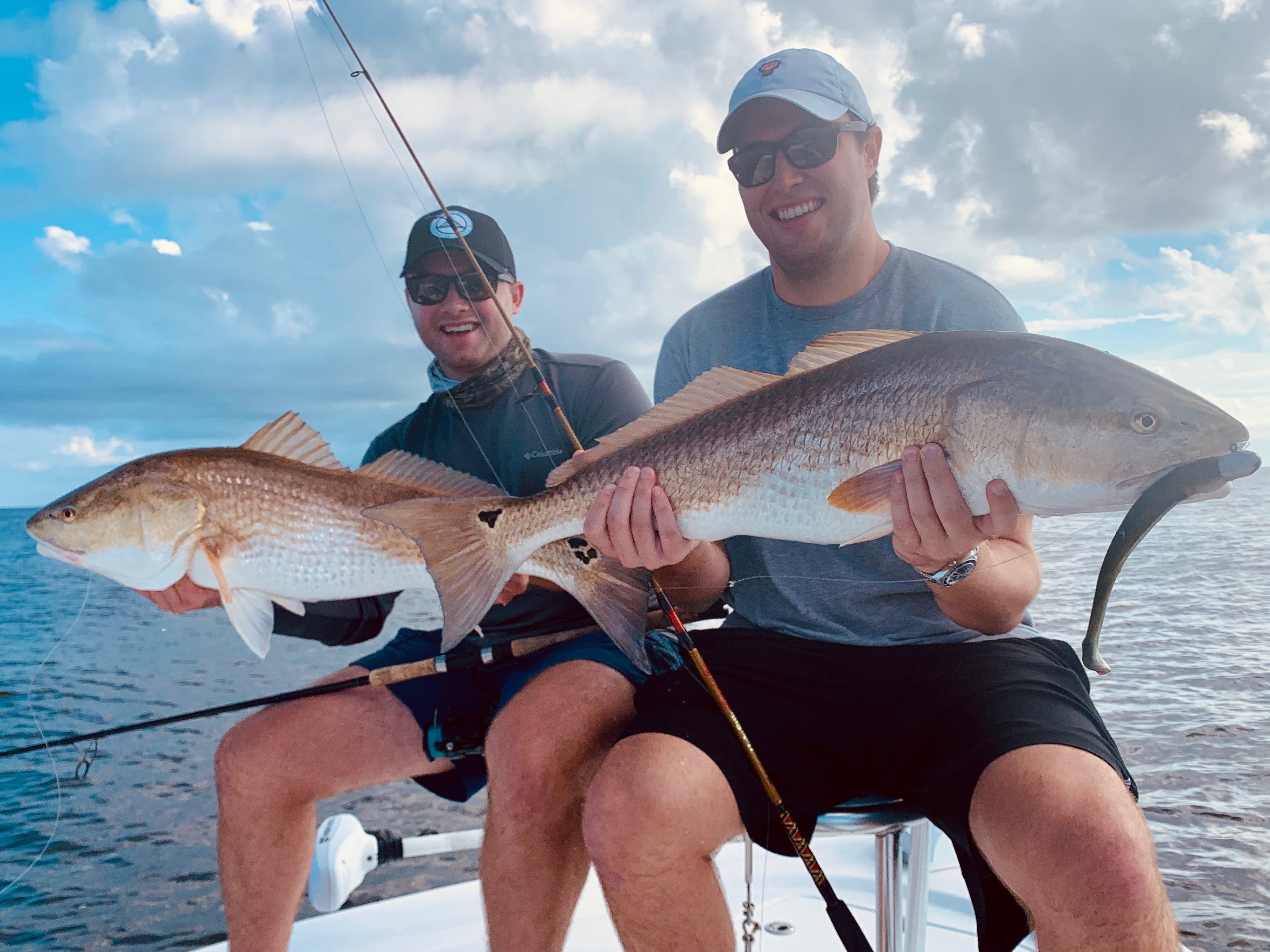 The tarpon fishing this Fall has also been incredible and unlike our friends on the Gulf Coast, we were fortunate to dodge any significant hurricanes in South Carolina. Most of our tarpon seemed to have left the area in late September but we got another push of "reinforcement fish" towards the middle and latter part of October. This year, I spent most of my time targeting tarpon with artificial lures casting at rolling or feeding fish which paid off for a lot of my clients. The Fishing Guide's choice of lures for South Carolina Tarpon, DOA Baitbusters, DOA Swimming Mullets as well as the ZMANs Mag Swimz, rootbeer, pear white, mullet, and chartreuse are all great color options when fishing for tarpon.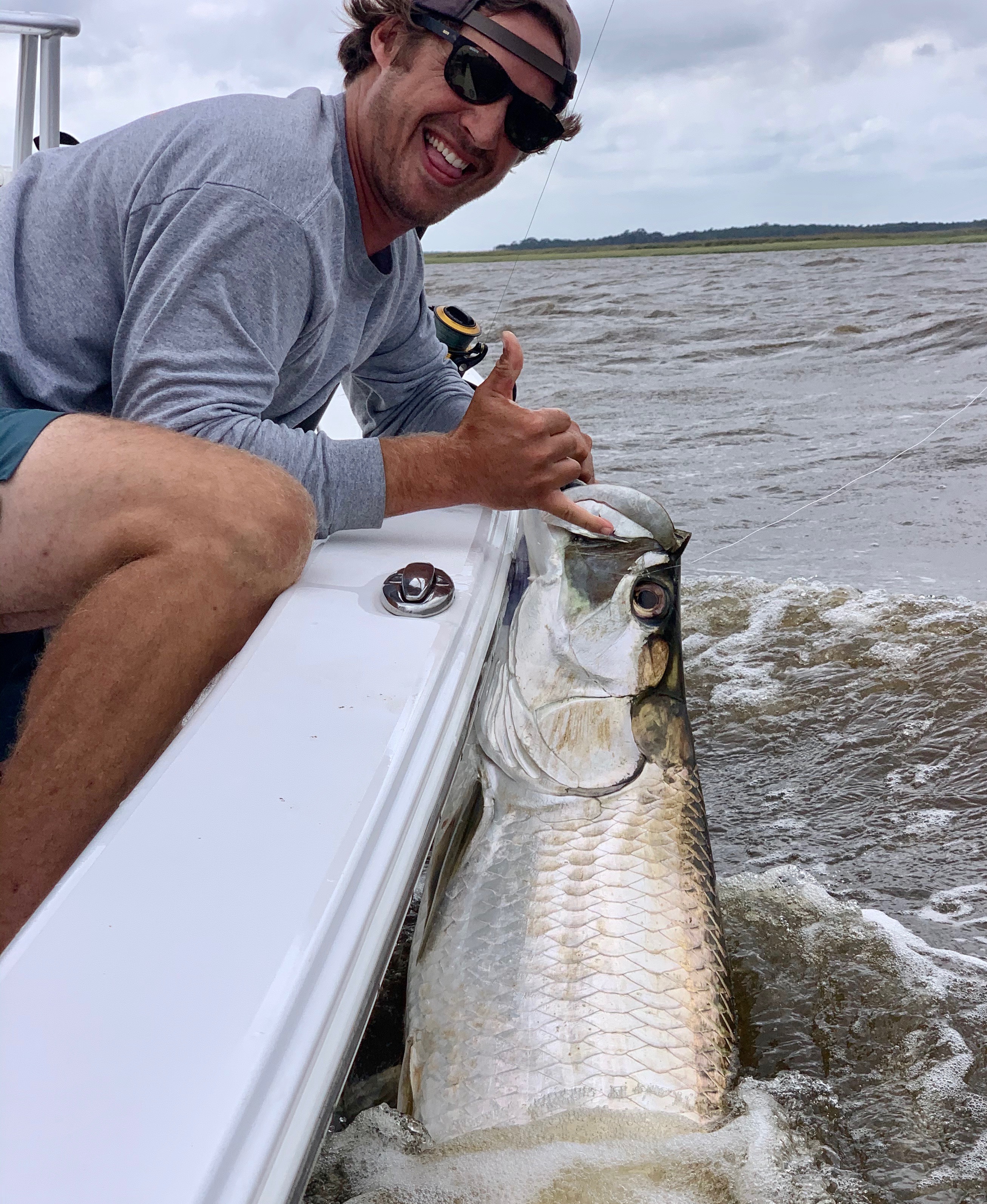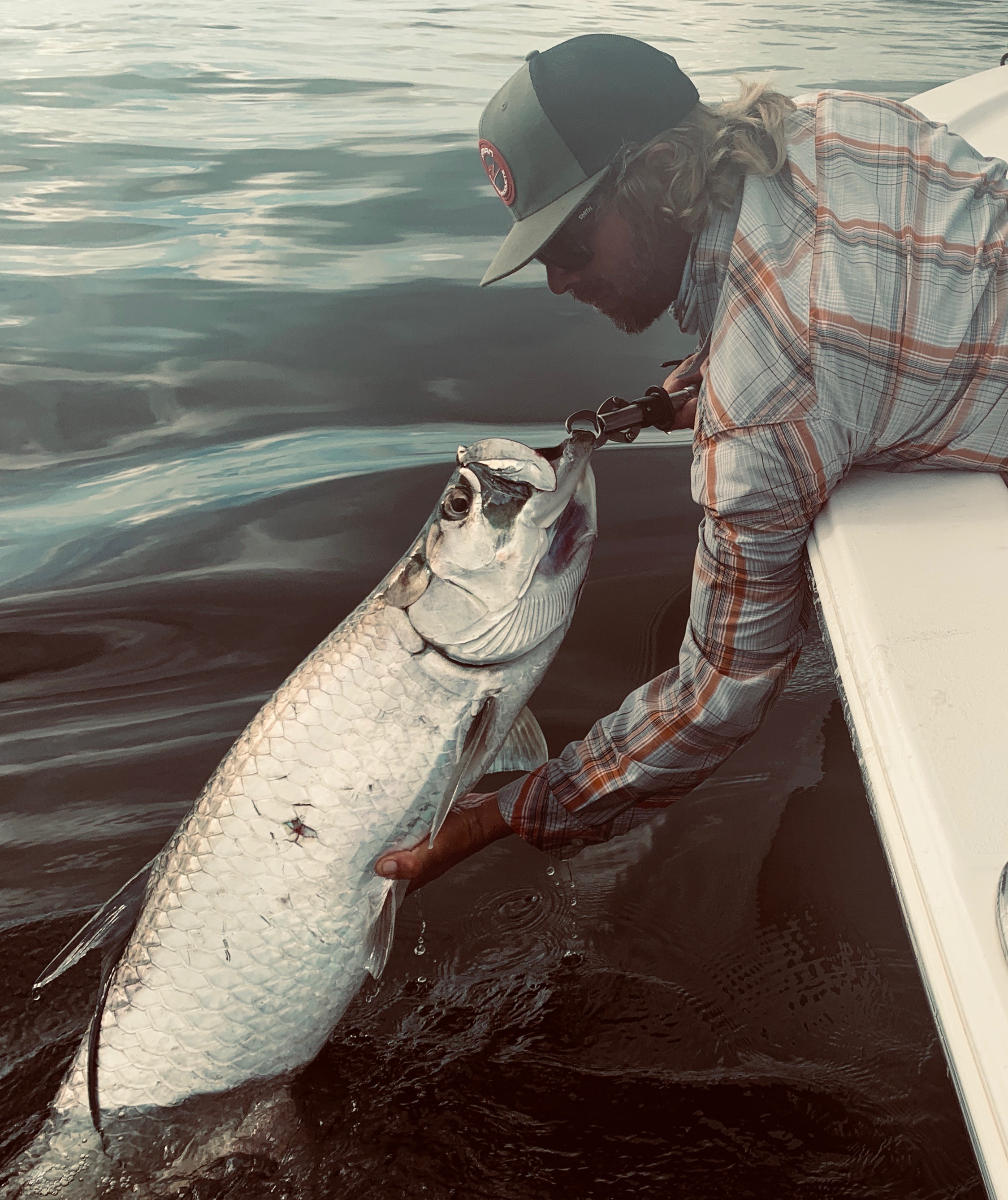 The Speckled trout bite really came on strong October- Dec with some quality sized fish coming over the rails. Most of the trout fishing I do is with soft plastics like DOAs and ZMan. Popping corks with 1/4oz artificial shrimp are also effective ways to target speckled trout in Winyah Bay, a locating tactic I like to use when I'm trying to zero in on fish that are congregated in an area. When I am targeting trout specifically, we are often "power fishing" while covering a lot of ground so you can expect to cast a lot. Obviously distance and accuracy are important when power fishing but I think rod and reel combination is equally important. I prefer a light rod for the casting ability and endurance, with a lot of sensitivity to feel the vibration of the lure and the bottom contour. Braided line also helps with sensitivity but also strength and durability in the long run. The 7'0 G-Loomis E6X Inshore (8432 MF) checks all the boxes and more for me, especially when I'm casting soft plastics. I also like to pair this rod with the FFP 2500 – Carbon Edition, spooled with 20lb Power Pro. I've been very impressed with these reels and the way they hold up to the demands of charter fishing. Florida Fishing Products is a young company based out of Tampa with excellent customer service and quality products, I highly recommend giving their reels a try.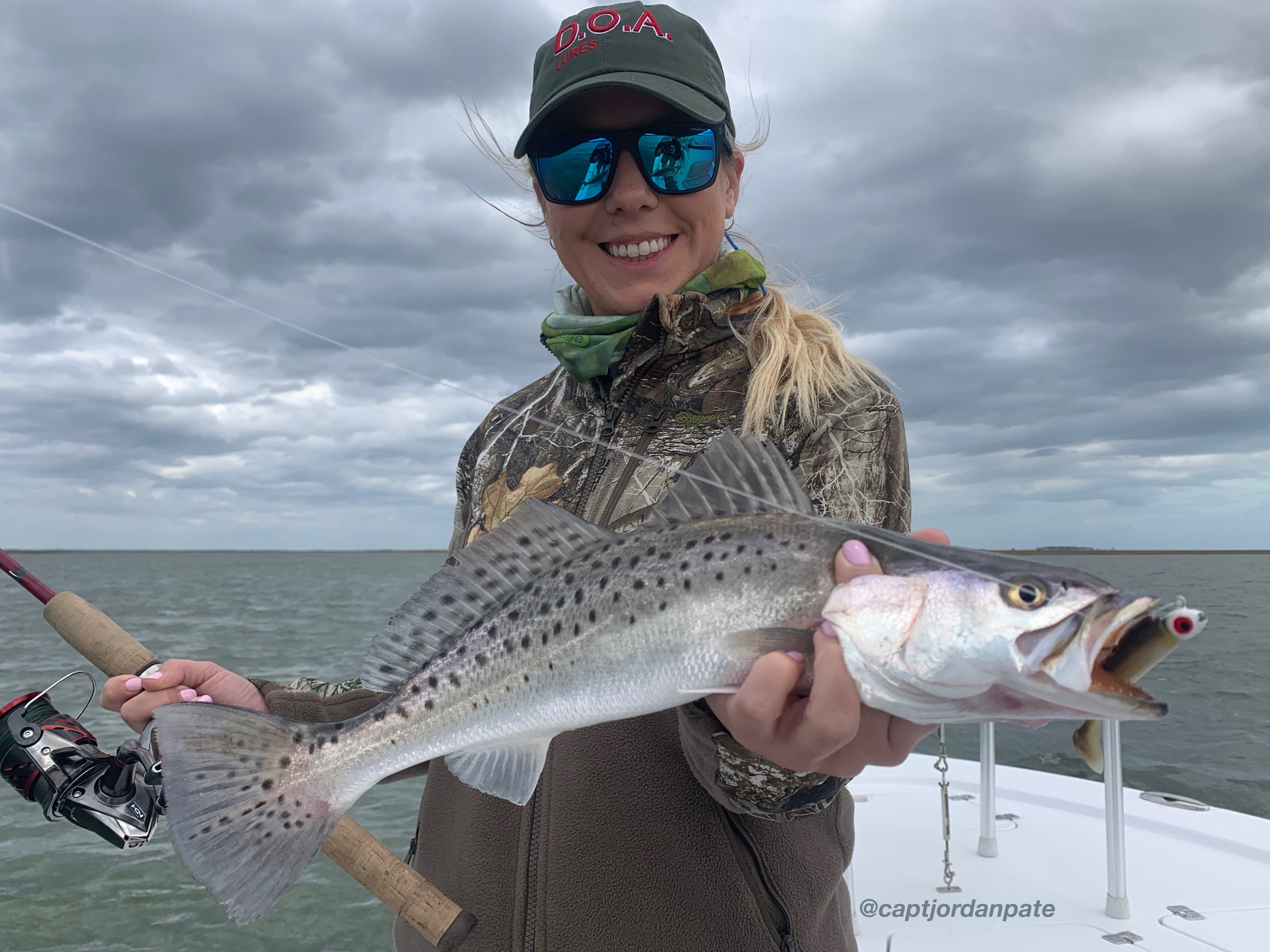 I have recently joined a host of other anglers both recreational and professional to release all sea trout over 20in. Check out #releaseover20 on your social media outlets to learn more. These larger fish are generally female breeding fish and deserve a chance to spawn, not to mention the larger trout aren't as tasty as the smaller "buck" trout.
As expected, the shallow water game has been good around Pawleys Island and North Inlet. Schools of redfish are beginning to chase shrimp in the shallow oyster flats which will often attract gulls so you can have some incredible sight fishing to redfish simply by locating the gulls. Fly Fishing for these redfish is one of my true passions and this is my favorite time of year to sneak around in the shallows in the 16ft Action Craft flats boat. Small shrimp like fly patterns work really well in this situation. If using spinning gear I carry a combination(light and dark colors) of paddle tail grubs fished on a 1/4oz jig head.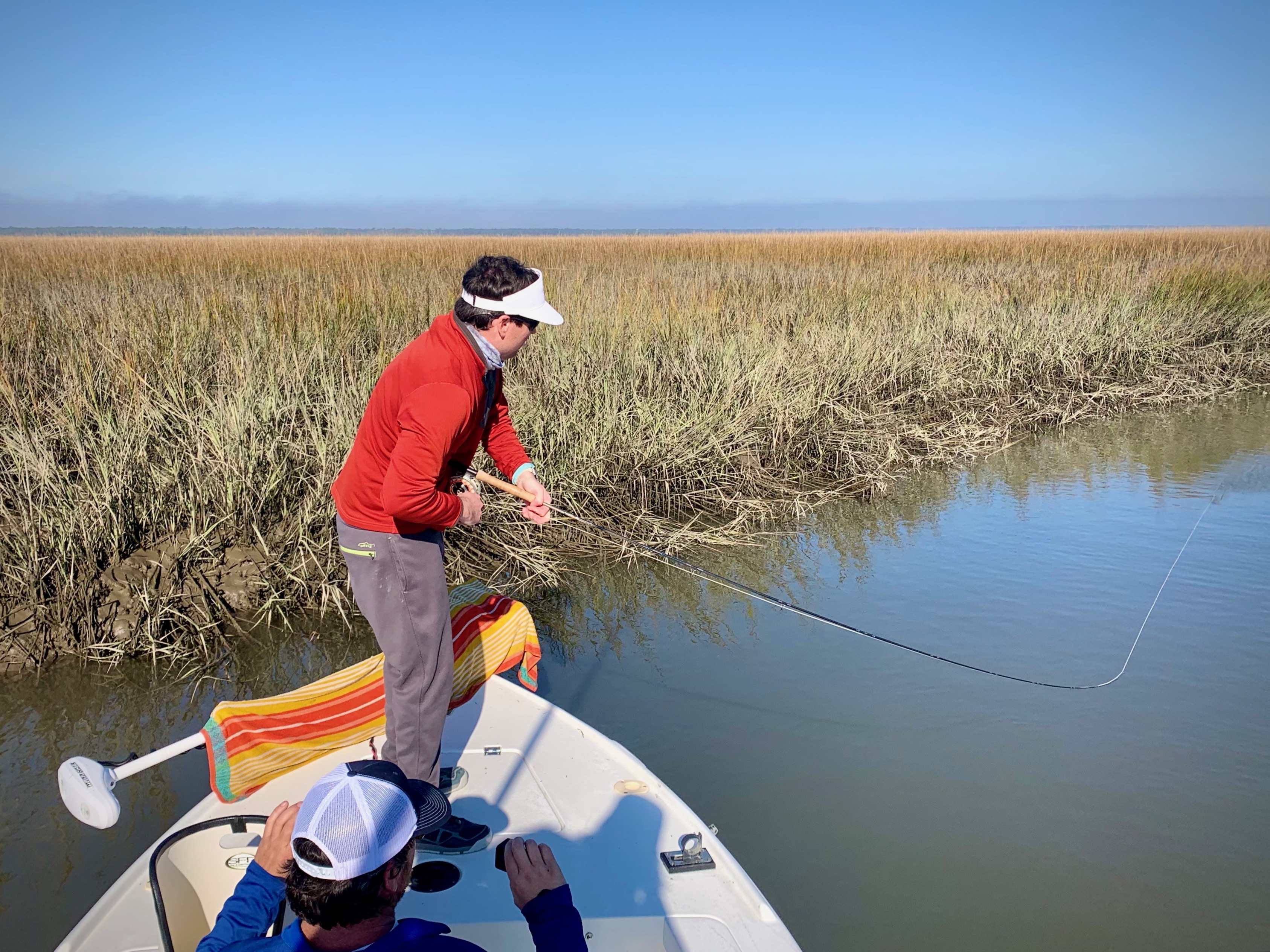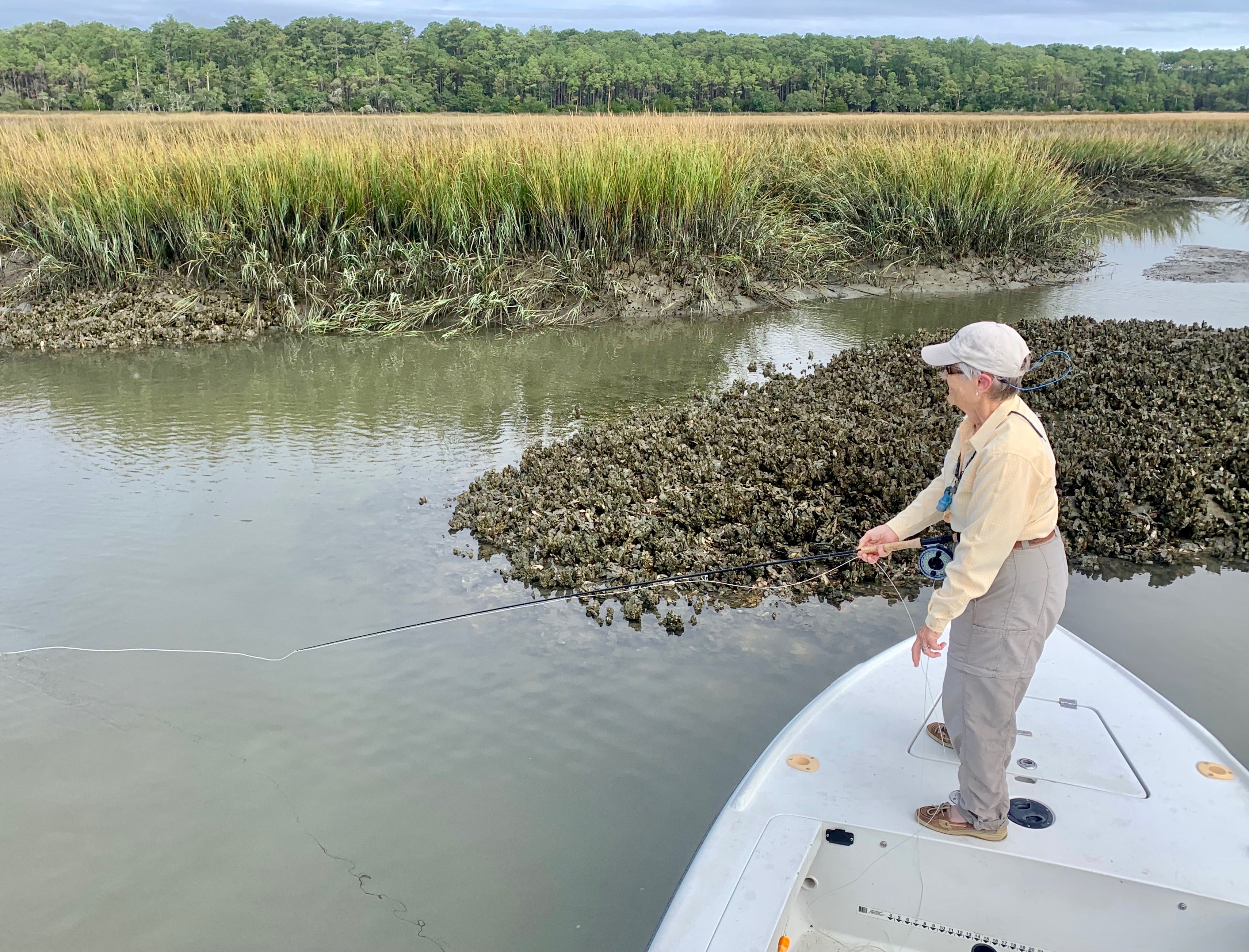 Some of the best cold weather fishing is right around the corner(Dec-Feb) and you can expect the redfish to continue to school up in tight schools while the speckle trout will continue to bite good as long as water temps stay around the 50 degree mark.
It is never too late to reserve a trip for next year so feel free to contact me for more details. Thanks again and good luck!
Capt. Jordan Pate
@captjordanpate