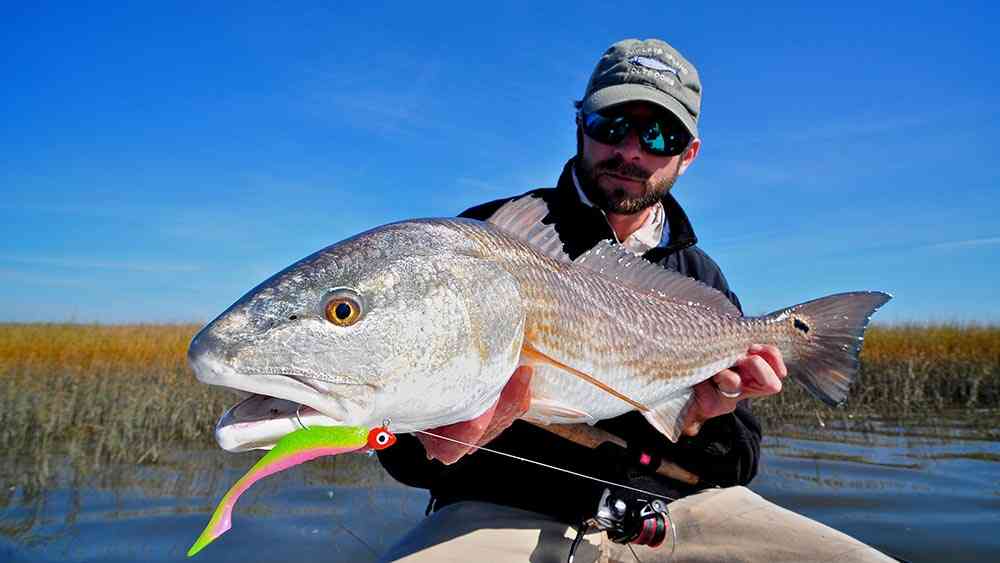 There is no better way to enjoy the pristine saltwater estuaries of South Carolina that with an inshore fishing trip. These fishing charters take place in the calmer waters of shallow bays, creeks and inlets. We are typically targeting Redfish, Sea Trout, Black Drum, Sheepshead and Flounder using light spinning tackle with live or artificial baits. Depending on the size of the crew, the 18ft flats boat or the 23ft bay boat will suffice for the inshore trips.
When is the best time for inshore fishing?
Inshore fishing offers year around fishing opportunities with redfish being the primary target. Perhaps the best time of year inshore fishing is in the Fall when all of our inshore gamefish are actively feeding. During the coldest months of the year, redfish will school up in shallow bays and creeks where we are often able to sight fish for them in water less than a foot deep. As the water warms and life returns to the marsh, more species become available like flounder, sharks, speckled trout, tripletail and black drum.
How many people can you carry on the inshore fishing charter?
Since inshore fishing often requires a lot of casting, it is recommended that you keep your group size at a 3 or 4 passengers for safety. When fishing from the 18ft flats boat, our capacity is limited to 2 passengers. If you have a group with more than 4 passengers, it is recommend that you opt for two boats which we can arrange for you.
Will I be able to take fish home?
If loading up the freezer with fish is your goal, then you are in the wrong place. While we dont mind keeping enough fish for our clients to enjoy a meal or two, we encourage catch and release, particularly with redfish. If you intend to keep fish, please notify your captain before the trip and bring a small cooler to carry fish home. Fish cleaning services are included.
What type of day can I expect?
Our days typically start around 7am, sometimes earlier or later depending on the tides and weather. Most of the inshore trips are about 5-6hrs hours long which gives us the chance to put forth a good effort to locate fish for our clients. The average commute time to the fishing grounds is about 20mins, sometimes longer if the captain feels the need to access remote fishing areas.