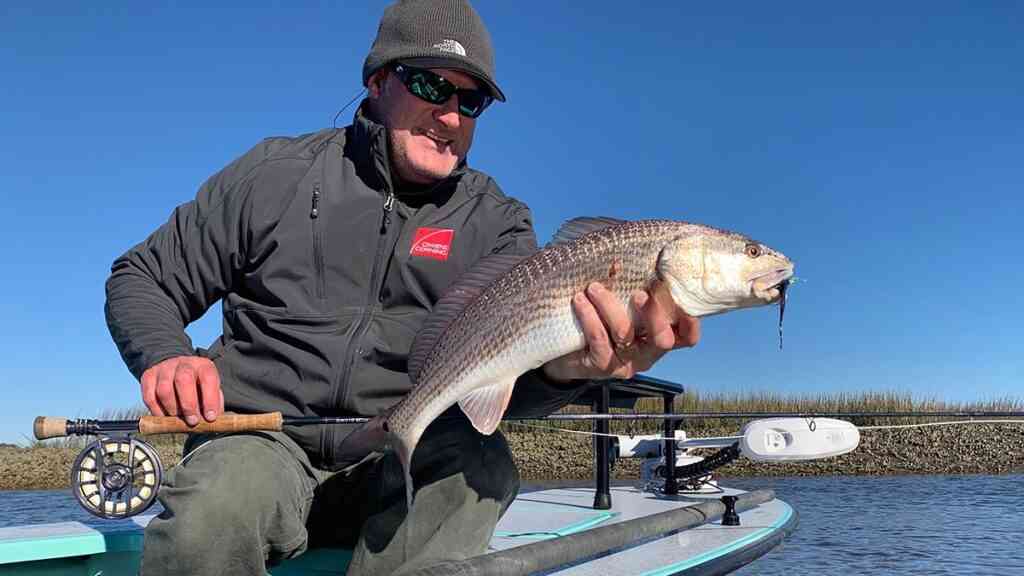 If stalking redfish in shallow water sounds like your idea of fun, then you are in the right place. We offer year around guided fly fishing trips for several saltwater species that inhabit the South Carolina waters. Redfish are the most popular fish to target on fly but we also target seasonal species like tarpon, false albacore, cobia, triple tail, and black tip sharks. Saltwater Fly Fishing in South Carolina has become very popular over the last 20 years and Captain Jordan Pate has been at the forefront of the fly fishing revolution in our state. We use only top quality gear from G-Loomis, Orvis, and TFO and the majority of our flies are tied by our network of local fly fishing guides. While we do provide the gear needed, we always encourage our clients to bring a rod of their choice.
What can I expect if I book a Fly Fishing charter?
It is recommended that you keep your group size to one or two anglers when fly fishing. We'll be fishing from one of the several skiffs we have in the fleet and the depth of the water we are fishing in is often less than a foot deep. Keeping weight to a minimum is critical to access some of the best fishing grounds for redfish, therefore only two anglers are recommended for fly fishing trips. Knowing the tides and the best window for fishing is what we do best so we will coordinate with you on the best times to fish that particular day.
When is the best time of year for fly fishing for redfish?
There is no bad time of year to fly fish for redfish. Spring and Summer can be productive as we are focusing on high tide grass flats in search of Tailing Redfish. Fall and Winter months will give fly fishing anglers the most shots as redfish will begin to school up and forage on the abundance of shrimp and crabs. Late Winter and early Spring can be the most challenging season due to the weather.
When is the best time of year to book a tarpon fly fishing charter?
We begin to target tarpon in June and the bite is usually best in July, August and Sept. October can also be a very good month as long we avoid any major hurricanes or cold fronts.
I'm a novice fly fishing angler with no saltwater experience, what can I expect?
Your guide will offer instruction when needed however we encourage our clients to practice as much as possible before your trip. While bouble haul casting is not critical, it will certainly increase your odds of success. Strip setting is another crucial piece to being successful and landing the redfish of your dreams. If there is a local fly shop in your area, it may be worthwhile to get some casting lessons.
How much is a fly fishing carter and how long do they last?
The recommended time for a fly fishing charter is a minimum of 5hrs and the rate is $600 which includes everything you'll need for fishing that day.
Tailing tide trips offered in the afternoons during the summer months.