Tarpon Tagging Georgetown South Carolina – While the presence of tarpon in South Carolina may come as a surprise to many who are unfamiliar with this area, the fact is that we have a very healthy population of tarpon between June and October. Scientists from The Bonefish Tarpon Trust have identified South Carolina as a very valuable piece of the puzzle that will help them understand more about these highly migratory fish.
Lucas Griffin from the BTT wrote, "The tarpon fishing in South Carolina is really an emergent fishery that is attracting many anglers across the US. However, we really don't understand where these fish came from and where they are going to. There so many unknowns about this fishery, which is why we have initiated the Bonefish and Tarpon Trust tarpon tagging project. South Carolina, our most northern tagging hub, will help us to finally understand tarpon connectivity and movements which is vital to informing conservation efforts and prioritizing those that best protect this beloved species. As Billy Pate, legendary tarpon angler and conservationist, once said "Are our fish their fish?""
For the last two seasons, I have worked with scientists JoEllen Wilson and Lucas Griffin from the BTT to tag tarpon with acoustic transmitters in Georgetown, South Carolina. With the help from several local guides, we have successfully tagged 4 tarpon with acoustic transmitters. For the next 5 years, acoustic tags will help scientists understand migration movement, identify habitat and potential spawning areas.
How Acoustic Tagging Works
Small tags are surgically implanted in the abdomen of the tarpon, a procedure that lasts no longer than 2 mins. Tarpon are never removed from the water as a cradle is used to contain the fish while the tag is implanted. Everyone involved with the tagging procedure has a job to do to ensure the healthy release of these tarpon.
Each tag emits an ultrasonic ping that has a unique code for each tarpon. These pings are detected by underwater receivers when a tagged fish swims in range. When receivers are placed at strategic locations like inlets, bridges, and schooling locations, they are very efficient. Data is collected from the network of thousands of acoustics stations located along the East Coast, Florida, and the Gulf Coast states. The data is then uploaded to a central database where it can be accessed by multiple agencies.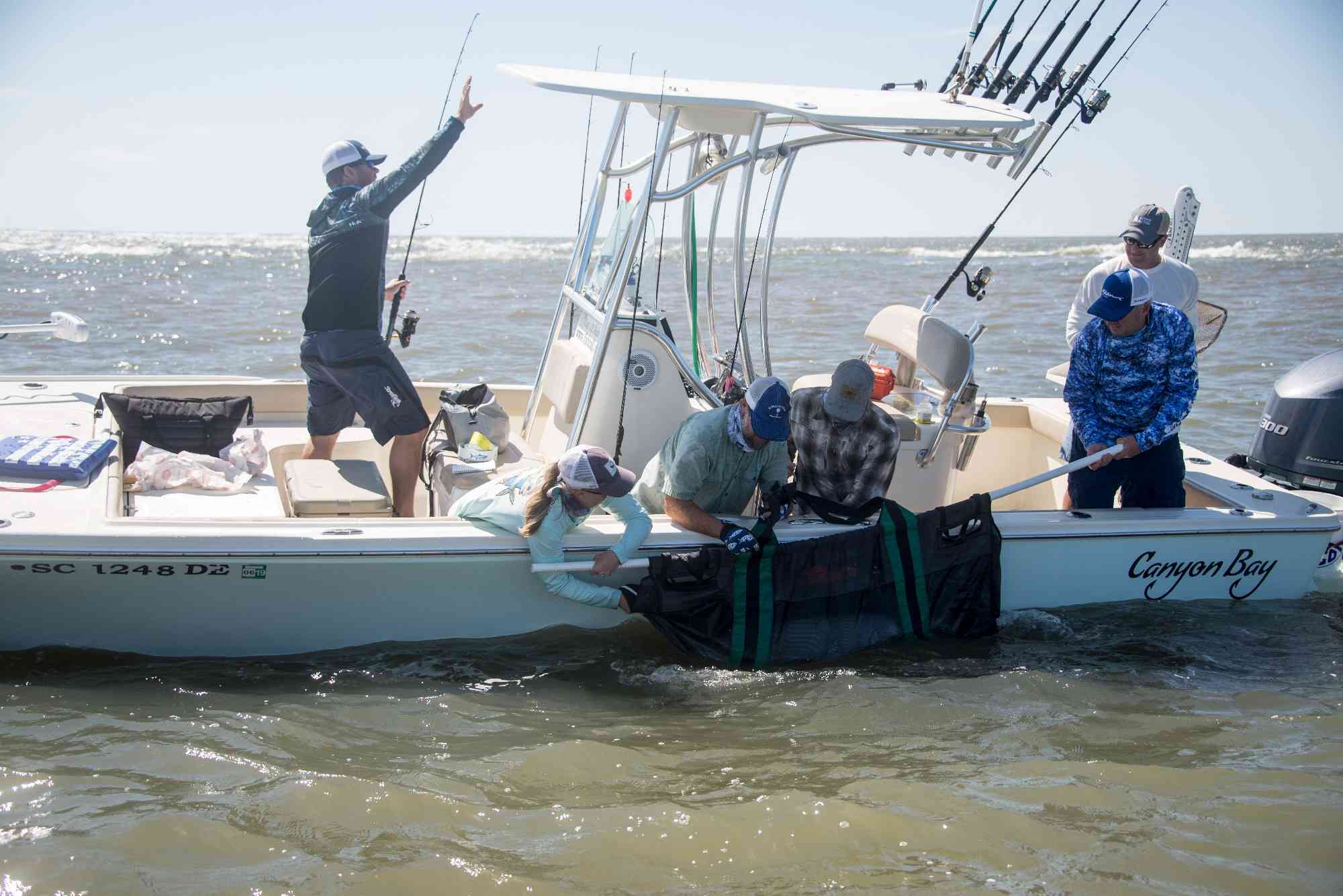 How You Can Help
There are many ways you can get involved with BTT's work. Whether it's making a contribution, attending an event, participating in research, or simply by helping to spread the word. I encourage anyone who is interested to visit their website with more information www.bonefishtarpontrust.org.
In 2018, I will be offering a limited number of tarpon charters for anglers wishing to participate in tagging with the BTT scientists. Dates have yet to be determined so please contact me directly to coordinate the details for Tarpon Tagging Georgetown South Carolina.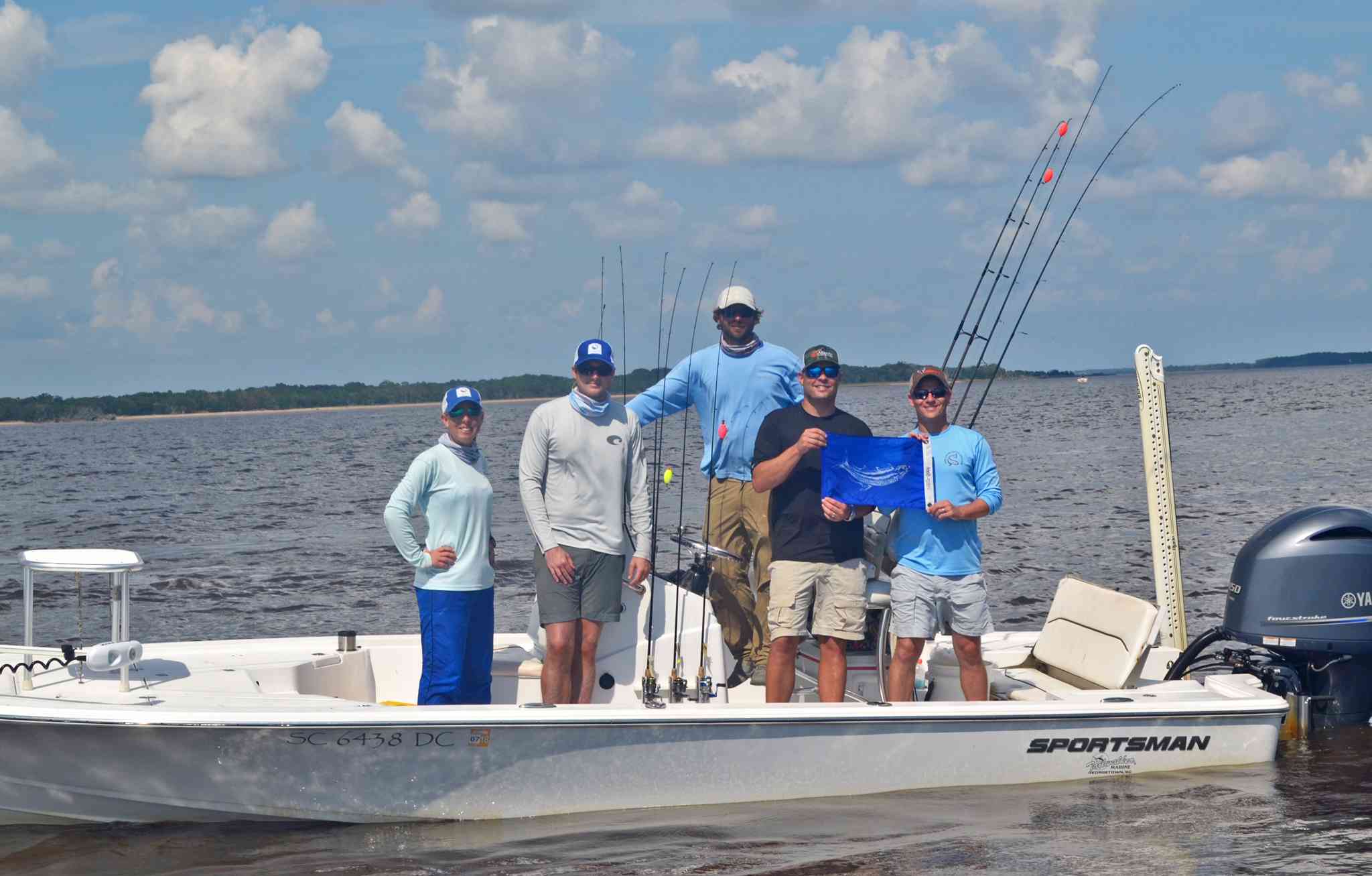 Jay Dorrier's Tarpon- Tag #16685

Data collected from a 55lb tarpon tagged Sept 2016 in Georgetown SC(angler Jay Dorrier), revealed this fish traveled over 600 miles in a 4 month period. What's even more incredible is this tarpon went right back to it's tagging location in Georgetown the following year. Talk about instincts!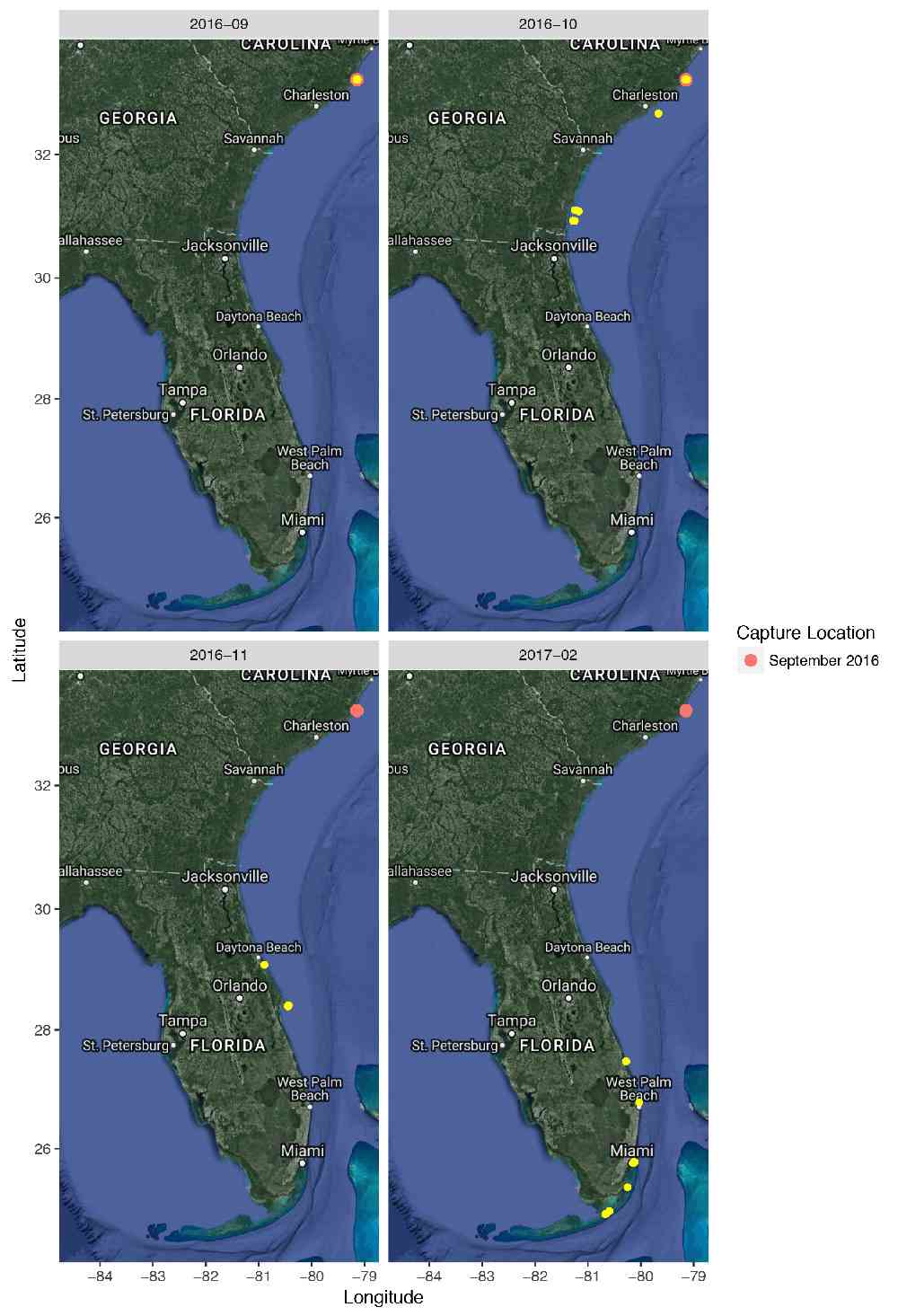 While great strides have been made in the tarpon conservation front, there is still a lot of work that needs to be done. This is not possible without dedicated scientists, guides and the tarpon angling community. Contact me if you would like to get involved with Tarpon Tagging Georgetown South Carolina.
Capt. Jordan Pate