Myrtle Beach Fishing Charters offer some of the best ways to enjoy your stay at Myrtle Beach.
You might think it's just about casting a line and waiting. But let me tell you, there's more to this than meets the eye.
A trip with Myrtle Beach Fishing Charters can be an adrenaline-fueled adventure or a tranquil retreat – depending on how you play it.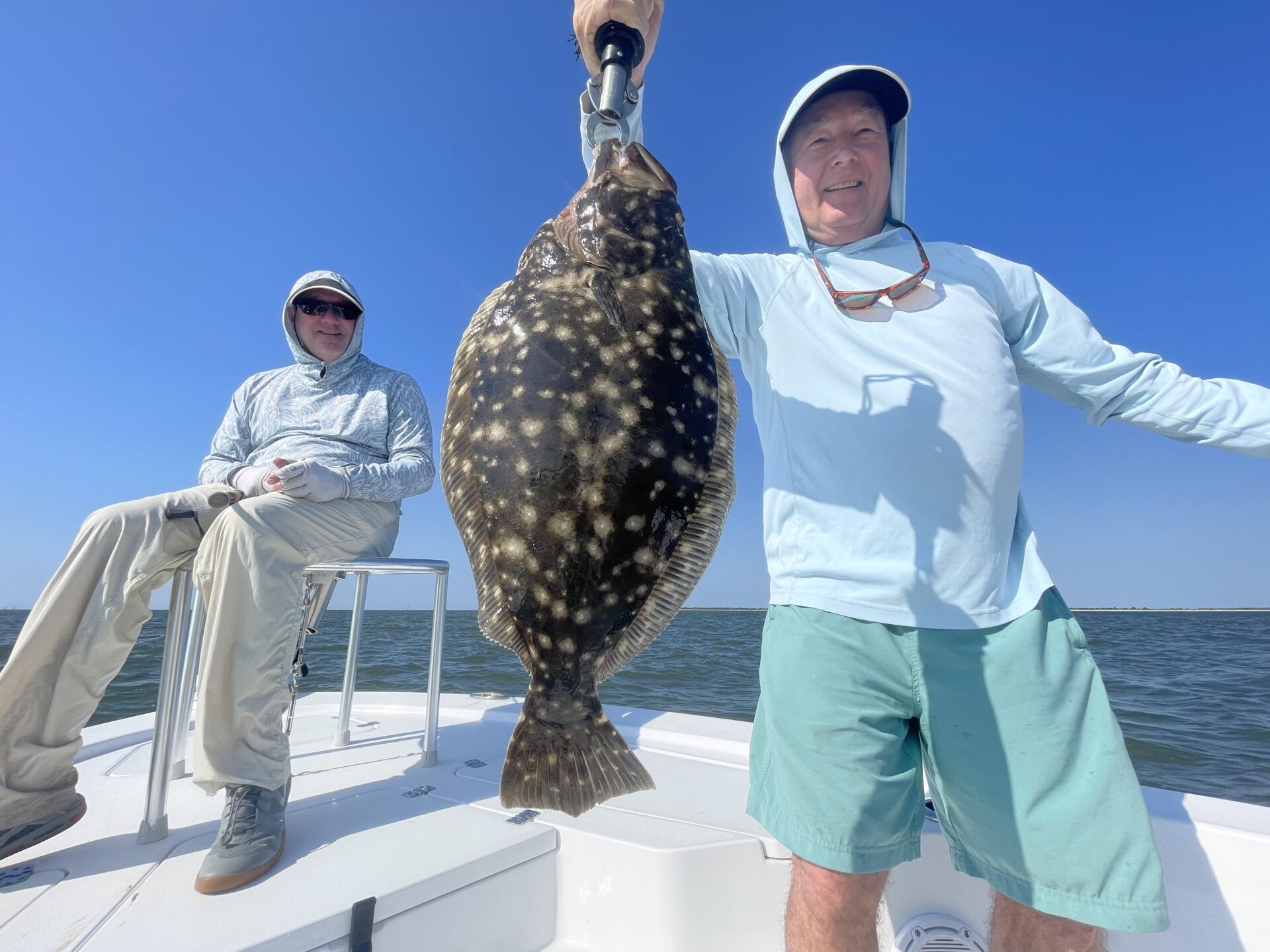 Carolina Guide Service: Your Premier Choice for Myrtle Beach Fishing
If you're looking to explore the rich fishing opportunities off the South Carolina coast, then look no further than Carolina Guide Service. Headed by Captain Jordan Pate, a seasoned fisherman with years of experience under his belt, this service promises an unforgettable adventure on South Carolina waters.
From novice anglers keen to learn new skills to experienced fishermen seeking their next epic catch – everyone can find something suitable here. The year-round availability of diverse species like Redfish and Flounder make these waters some of the most productive fishing grounds around Myrtle Beach.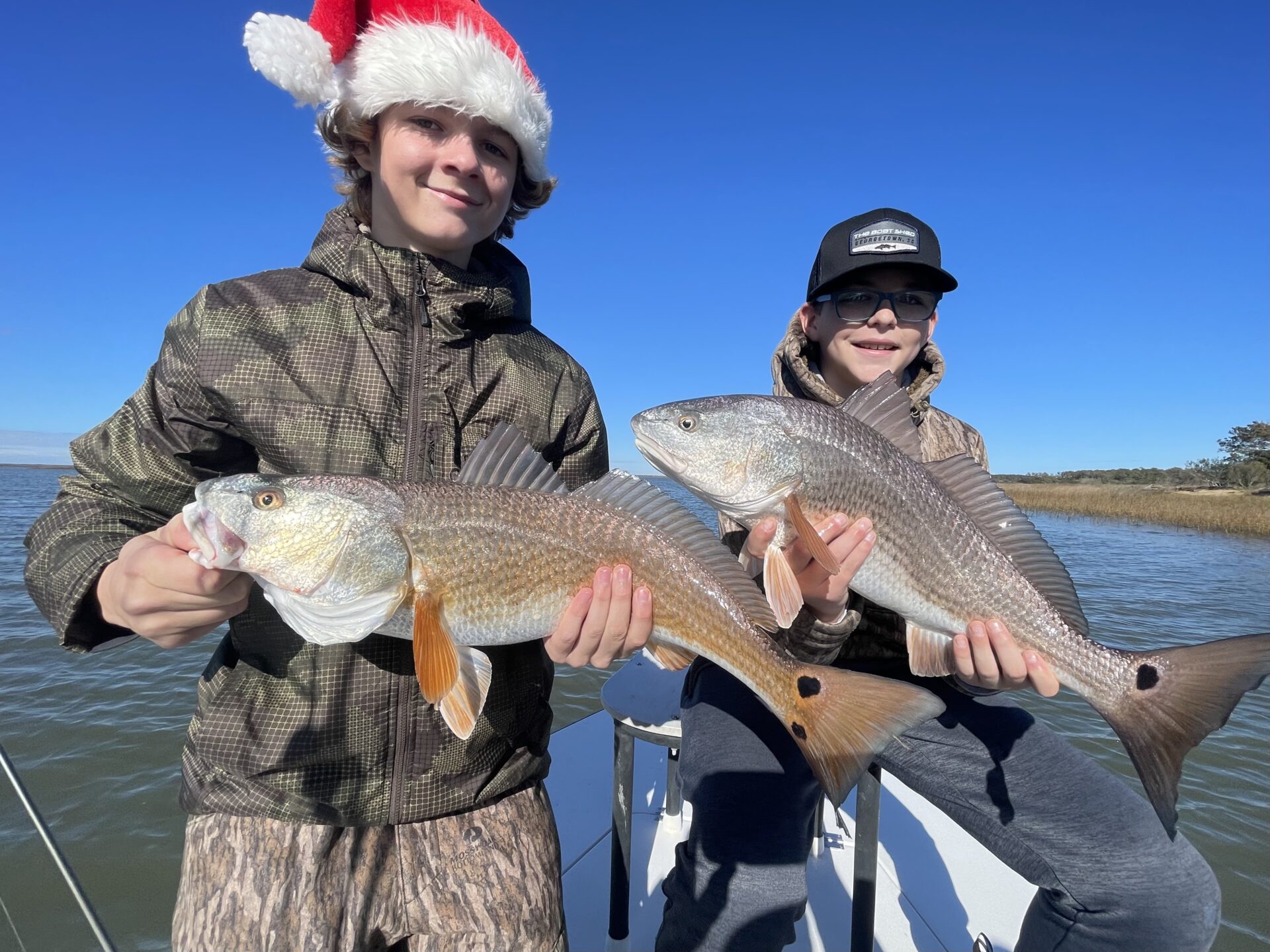 Inshore Fishing Charters: A Year-Round Opportunity.
When it comes to inshore fishing charters, South Carolina waters offer a year-round adventure. The US South Coast's mild climate and wealth of sea life make it a fishing haven that can be enjoyed all year round.
The appeal lies in casting lines and exploring tranquil water habitats along our coastline teeming with marine life. With only about 20 minutes commute time required from shorelines to reach prime spots during typical 5-6 hour long trips, there's plenty more time left for actual angling action.
The species you're likely to hook during these expeditions are both varied and abundant. Expect encounters with Redfish, Sea Trout, Black Drum, Sheepshead, and Flounder – all thriving within our pristine saltwater estuaries. The typical duration for these trips is 5-6 hours, which gives you ample opportunity on the water without having your entire day consumed.
This ensures maximum fishing opportunities while keeping travel times minimal – a perfect blend for experienced anglers as well as novices.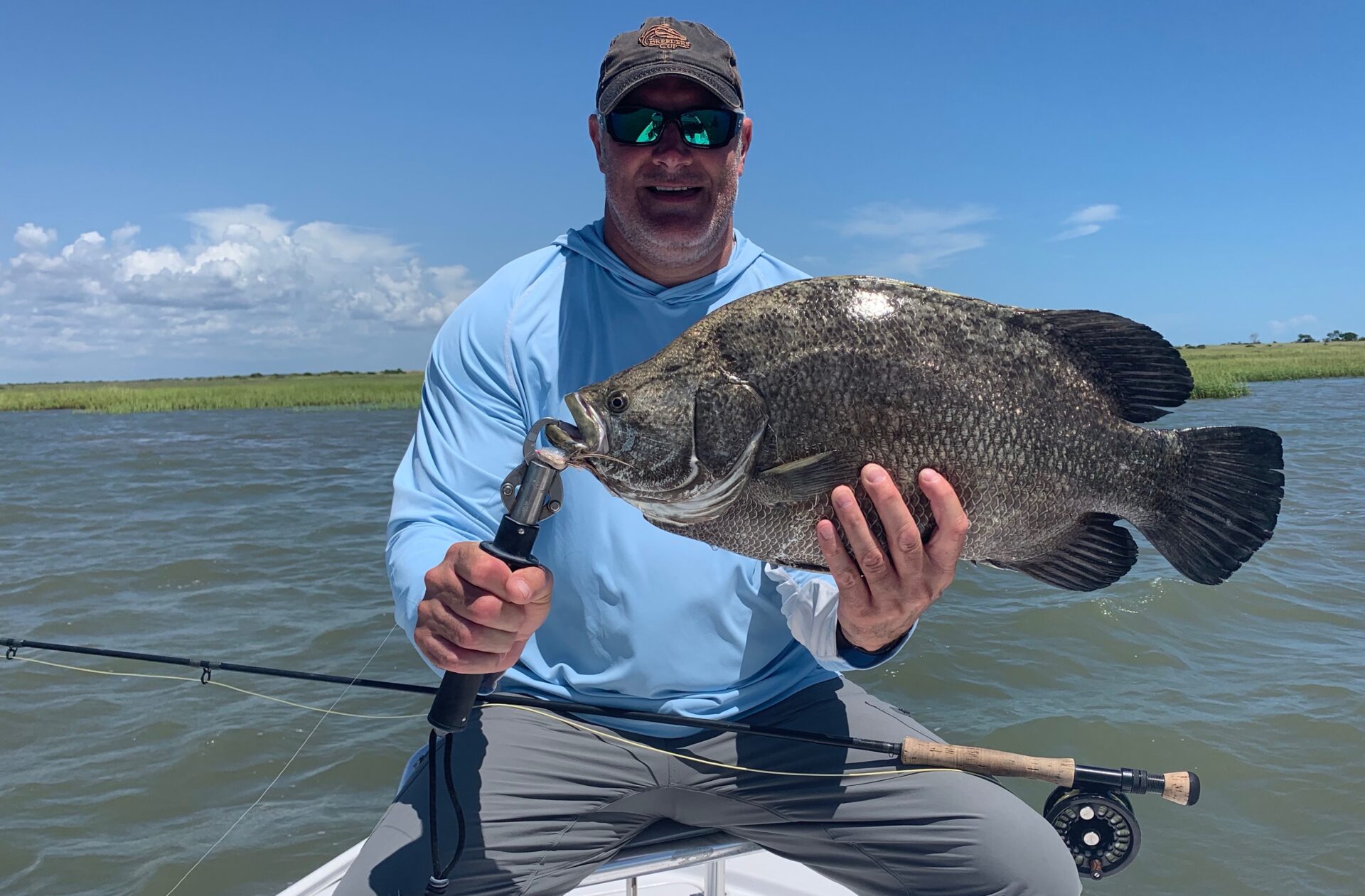 Best Time for Inshore Fishing
Fall season stands out when talking about ideal periods for inshore fishing along South Carolina waters. During this time period, game fish become more active feeders, preparing themselves ahead of winter conditions.
This increased activity leads to higher catch rates, making fall an excellent choice, especially if trophy-sized catches like Bull Reds or Gator Trout are what you're after.
Tarpon season runs from June through October, providing some exhilarating opportunities as these massive fish put up quite a fight. Summer months also see higher numbers of Speckled Sea Trout and Redfish due largely to spawning seasons aligning with this period.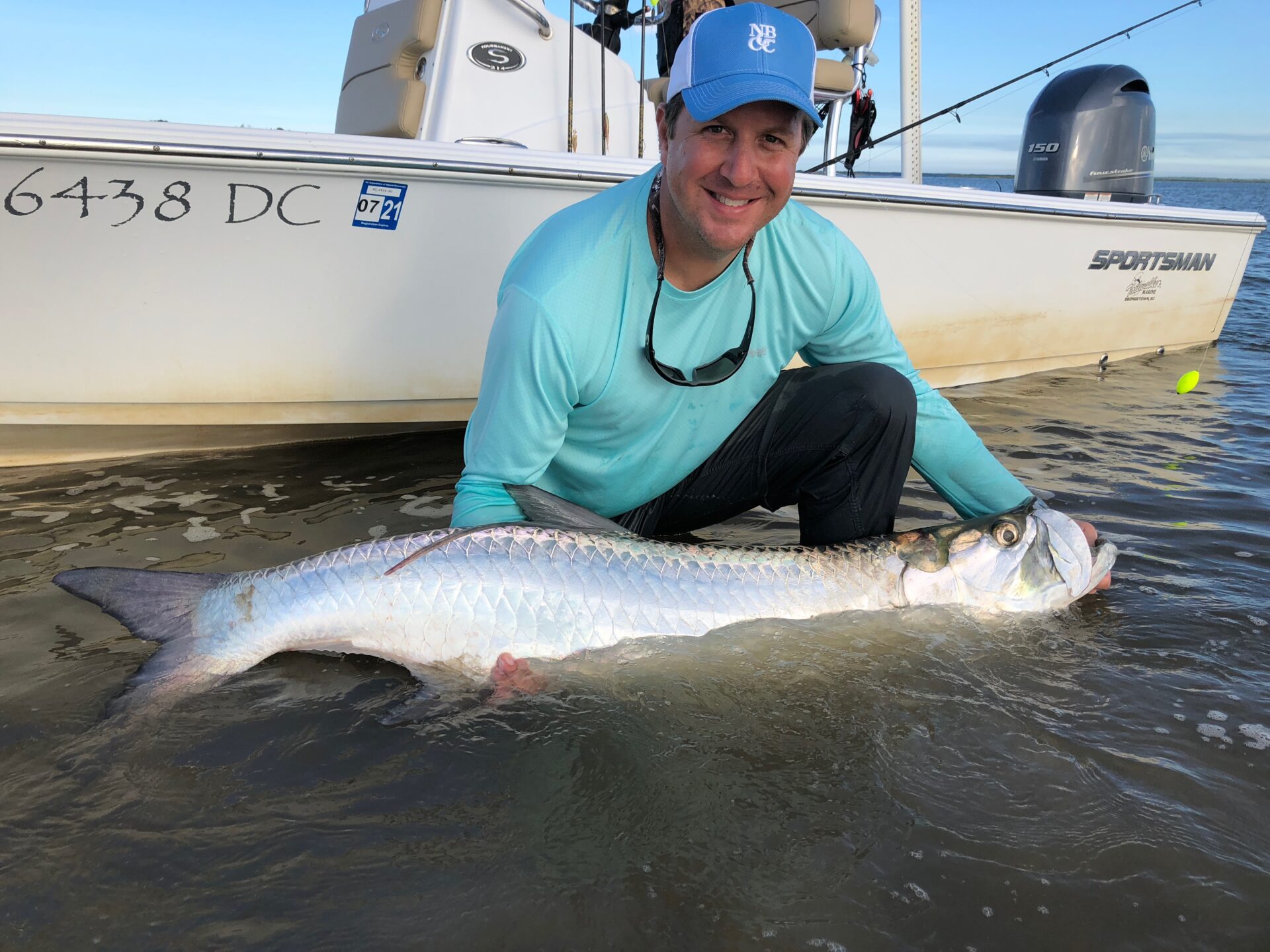 The Catch and Release Philosophy
Catch-and-release has gained traction among recreational fishermen worldwide due to its potential benefits for preserving fish stocks, particularly those under pressure, such as the Redfish population here in South Carolina.
Apart from ethical considerations, adopting a catch-and-release approach also enhances the overall angling experience by adding an element of sportsmanship into the equation, challenging angler skills, patience, and endurance rather than merely focusing on size and quantity caught.
To facilitate successful releases, avoid playing fish to exhaustion, use appropriate tackle, minimize handling, keep them submerged as much as possible, and remember to wet hands before touching the skin or scales in order to protect the slime coat, vital for the creature's health and well-being.
To Summarize: 
South Carolina's inshore fishing charters promise year-round adventure with diverse marine life, short travel times to prime fishing grounds and ethical catch-and-release practices. Fall is the best time for active game fish, enhancing your angling experience.
Nearshore Fishing Charters: A Different Kind of Experience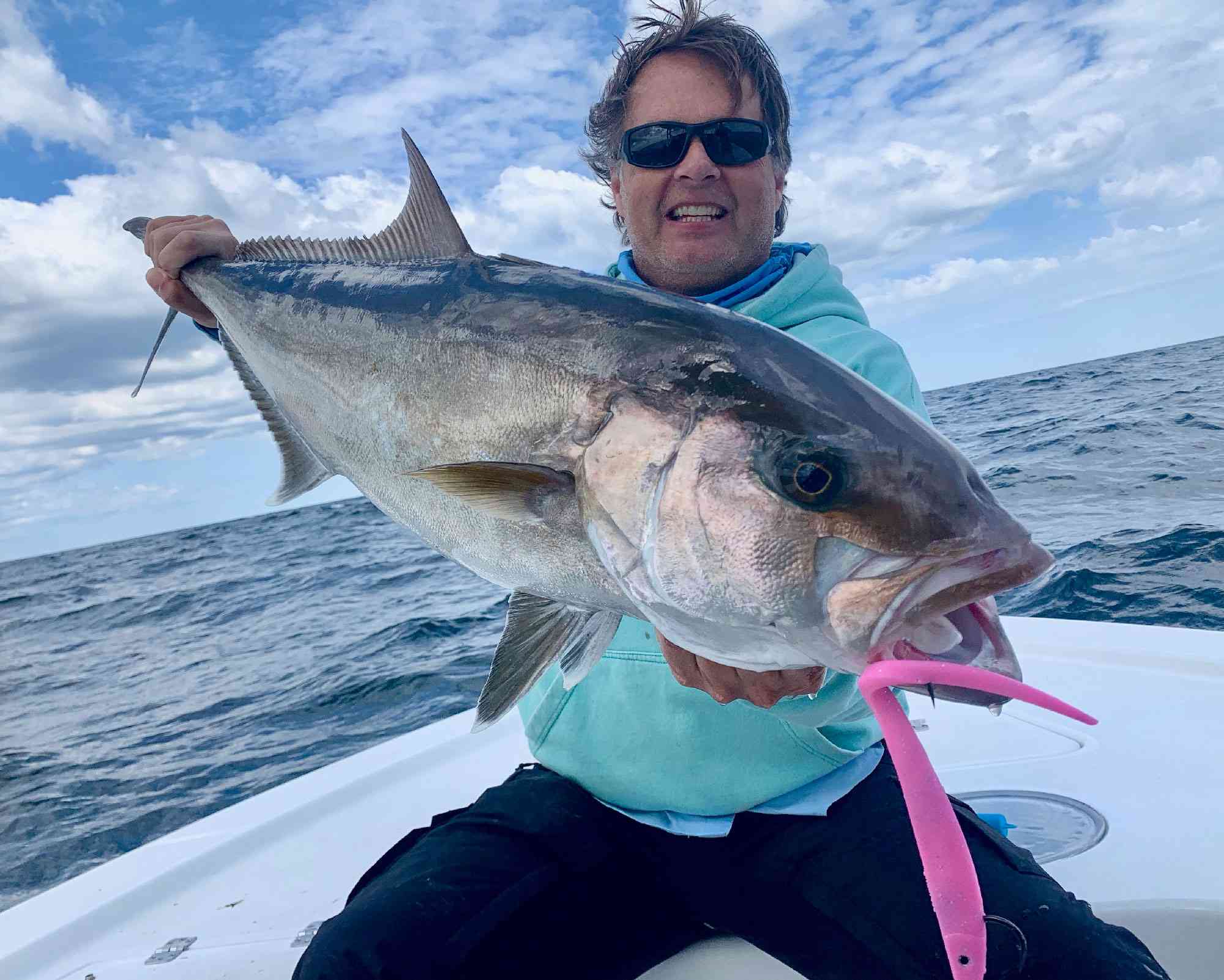 Stepping beyond the coastline and into South Carolina's nearshore waters, anglers can find a new world filled with larger gamefish. Nearshore fishing charters offer an exciting twist to your usual inshore trips, taking you just off the coast but still within state jurisdiction.
Captain Pate recommends trying out nearshore adventures venturing into deeper ocean areas beyond sightline from land yet within state jurisdictional boundaries (usually less than three miles). These six or eight-hour-long trips starting at $700 per group (up to four passengers), promise thrilling encounters with King Mackerel and Grouper, amongst other gamefish varieties found farther offshore.
Fishing isn't just a pastime, it's an exhilarating exploration of nature itself when done right, and that's exactly what we aim for at Carolina Guide Service.
When to Go Nearshore Fishing
Timing is essential for successful nearshore fishing on the South Carolina coast, as warmer water temperatures during late Spring to early Fall tend to attract target species and increase their likelihood of biting your bait. The period from late Spring through early Fall sees warmer water temperatures, stimulating increased activity among target species, making them more likely to bite your bait.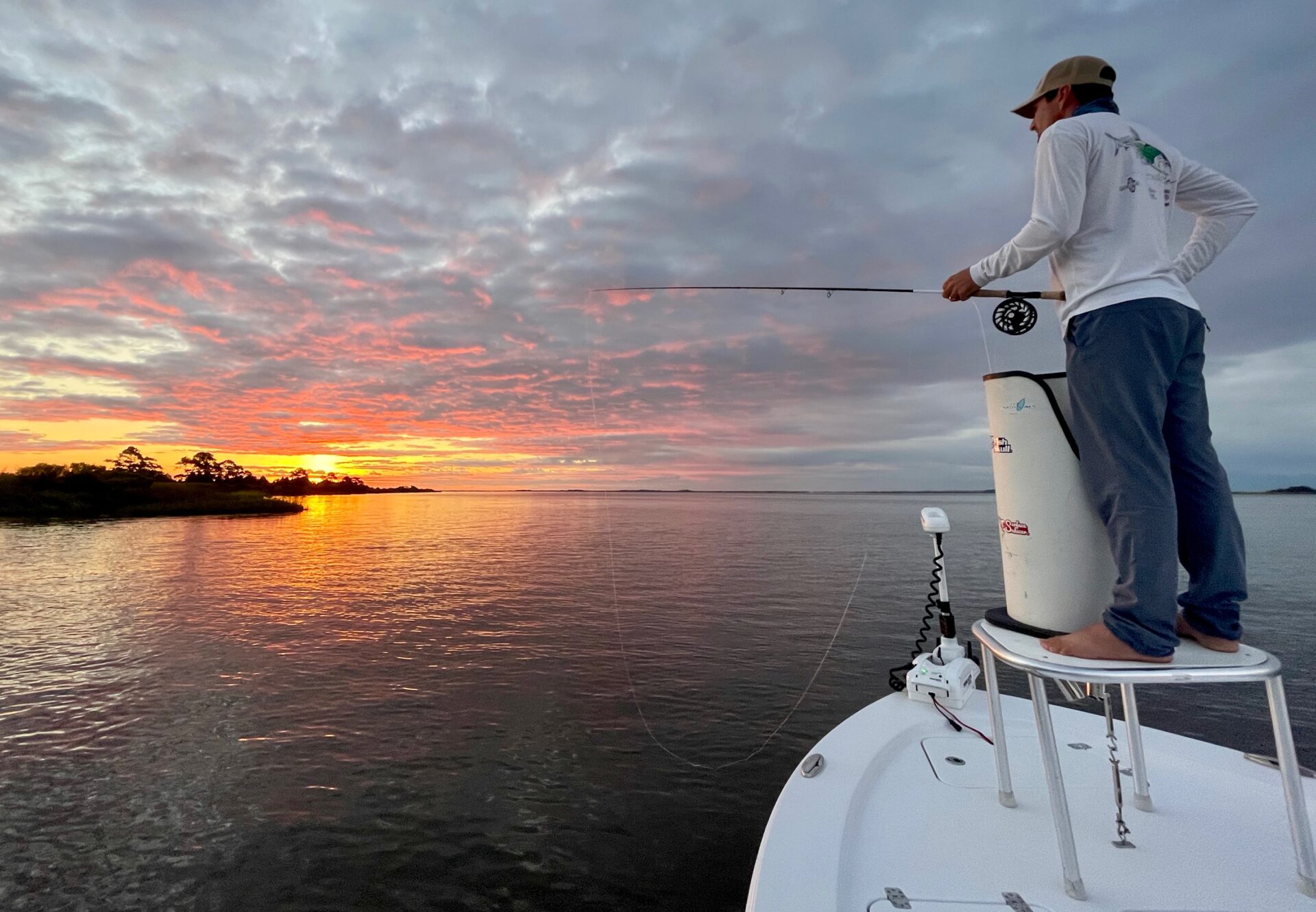 Access Remote Fishing Areas with Expert Fly Fishing Guides
Discover new, off-the-beaten-path fishing spots. South Carolina is home to some remote and lesser-known fishing spots that can only be accessed with expert guidance.
Fly fishing in these untouched waters brings a unique experience filled with tranquility, anticipation, and often rewarding catches. But how do you get there? The answer lies within local fly fishing guides who know exactly where to locate fish.
Local Knowledge: A Game Changer
You might have heard the phrase "knowledge is power," well, when it comes to angling in unfamiliar territories, this couldn't ring truer. With an experienced guide like Carolina Guide Service, not only will they navigate safely through uncharted waters, but their knowledge of locating fish increases your chances for a successful day out significantly.
An adept guide understands seasonal patterns, weather conditions, and tidal movements, which are key factors affecting fish behavior, thereby aiding effective angling strategies.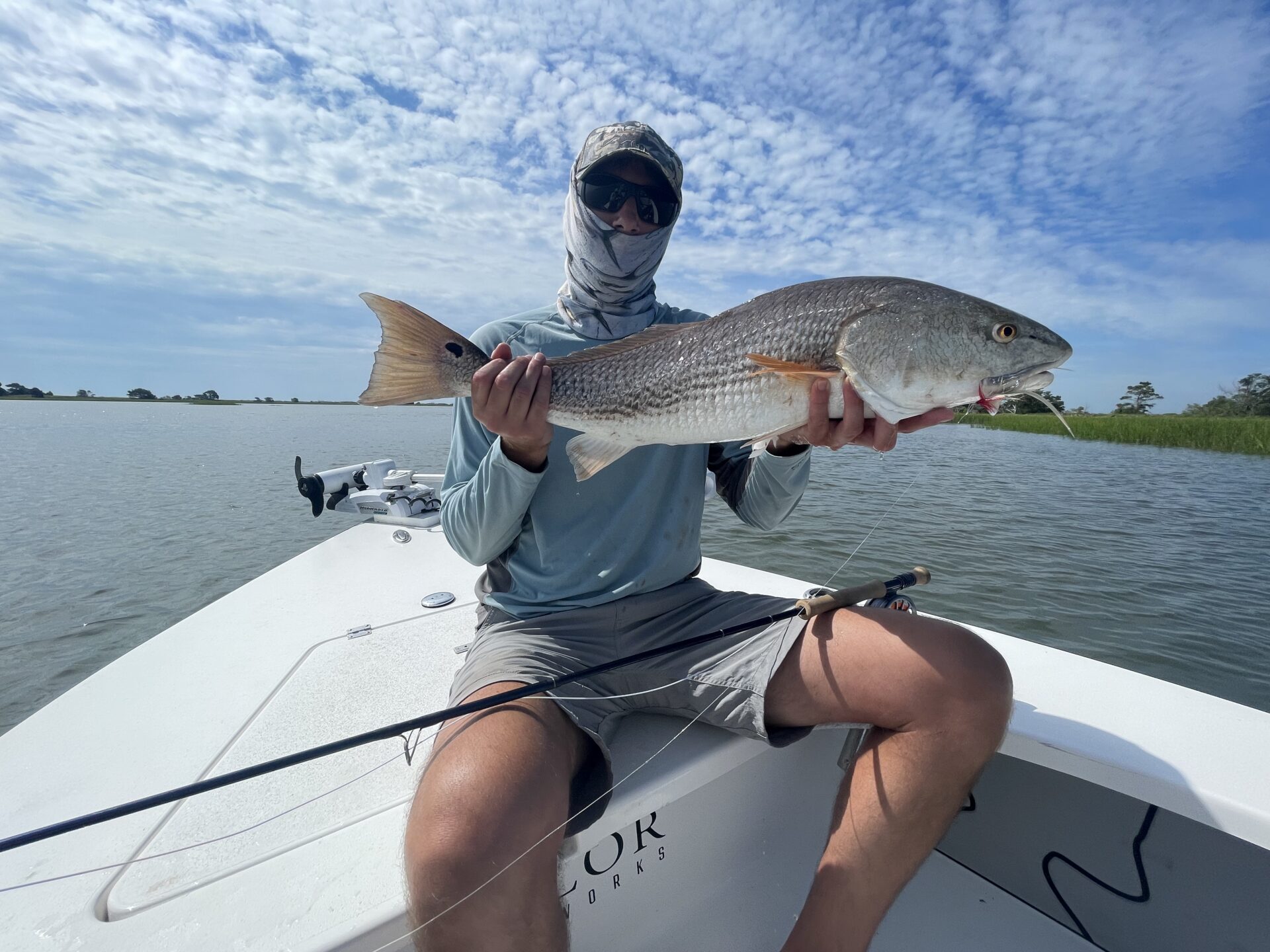 A Customized Fly Fishing Experience
Your guided adventure goes beyond merely finding fish; experts cater experiences based on individual skill levels or specific preferences, making each trip memorable.
If learning new techniques piques your interest, brace yourself as professional guides love sharing their skills and insights, adding more depth to understanding this beloved sport – fly fishing.
Safety First
Navigating through secluded areas poses its own set of challenges, such as unpredictable currents or sudden changes in weather, among others. This makes hiring expert guides indispensable, ensuring safety protocols are adhered to during adventurous expeditions, and offering peace of mind throughout the journey so all focus remains on enjoying the pursuit of catching big ones.
To Summarize: 
Myrtle Beach fishing charters offer more than just a catch; they provide access to remote, rewarding spots with expert guides. Their local knowledge and safety protocols enhance your angling experience while customized trips cater to individual preferences, making each adventure truly memorable.
Navigating South Carolina's Pristine Saltwater Estuaries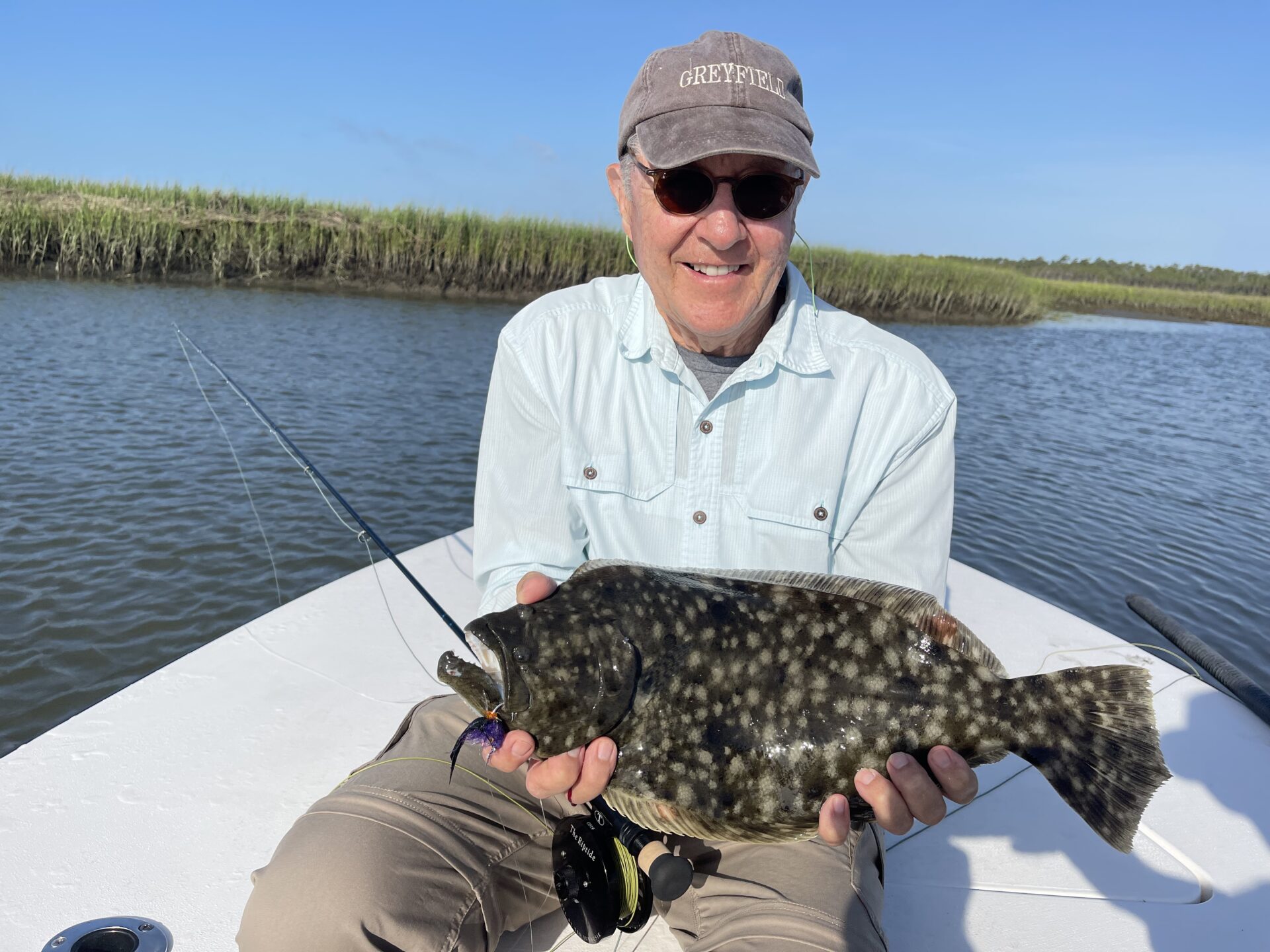 South Carolina's saltwater estuaries are a treasure trove for anglers. The mix of fresh and seawater creates an optimal habitat for diverse fish species, making these regions some of the most abundant fishing grounds on the eastern seaboard.
Winyah Bay is one such example. Known as a hotbed of aquatic biodiversity, this vast bay offers prime opportunities to catch Redfish, Flounder, Trout, among others. With its extensive marshland landscape stretching miles upon miles, it's easy to see why Winyah Bay has earned its reputation as an angler's haven.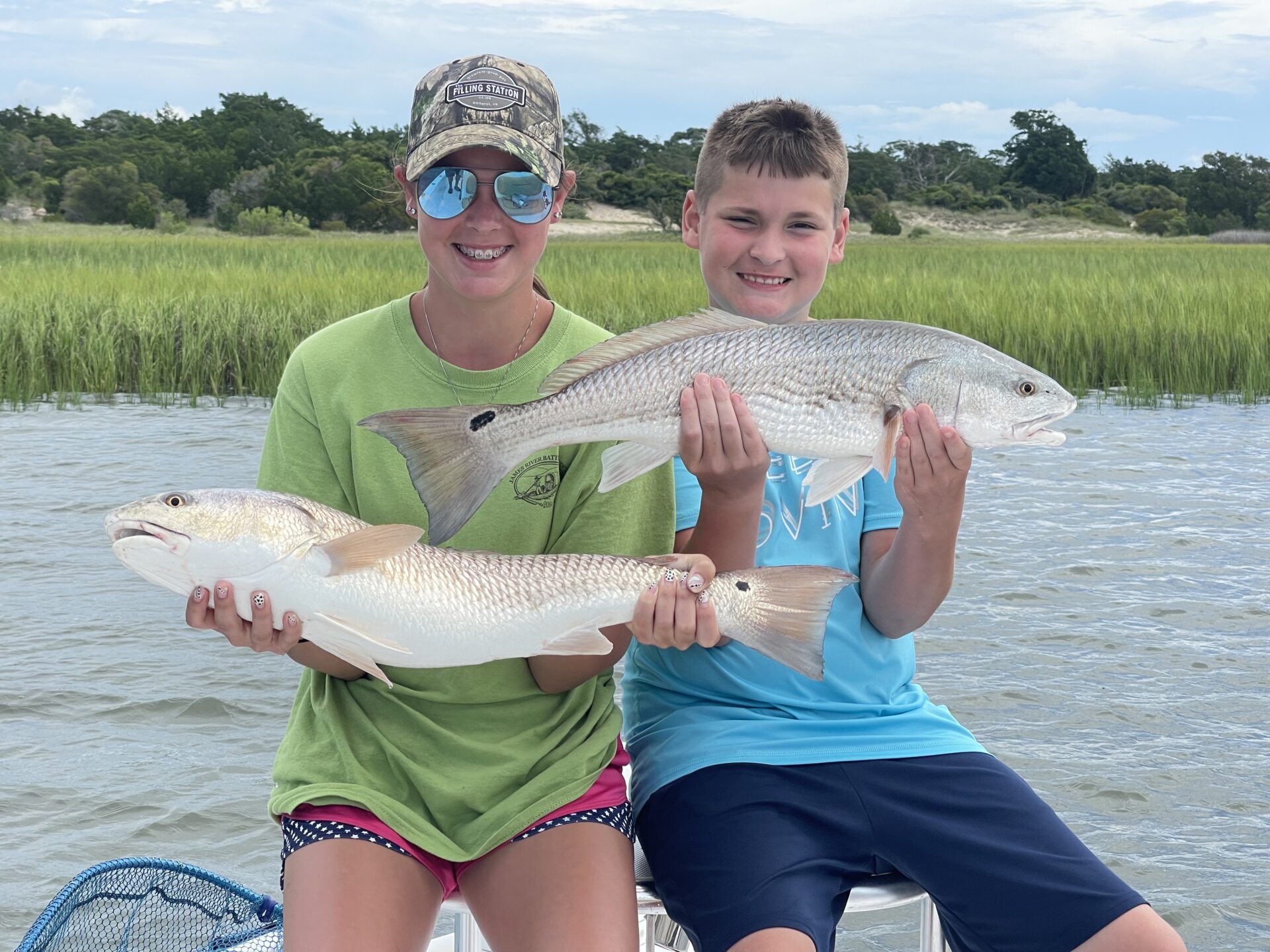 Fishing in Georgetown: An Angler's Paradise
The city of Georgetown lies at the convergence point where several rivers flow into Winyah Bay – creating ample opportunity to engage in local fly fishing guides or simply fish Georgetown. Its brackish waters provide perfect conditions for Redfish, Flounder, Speckled Sea Trout, and Black Drum that can be caught all year round due to their preference towards such environments.
A guided charter trip through this area not only increases your chances of landing impressive catches but also provides unique insights about the local ecology from seasoned experts who have intimate knowledge about these waters. They'll guide you toward fish hotspots while sharing valuable tips regarding baiting techniques or casting methods.
Pawleys Island: A Prime Fishing Location
Moving further down along the coastline brings us to Pawleys Island – another key location within South Carolina's network of saltwater estuaries offering bountiful catches, including Sheepshead and Tarpon, during specific seasons.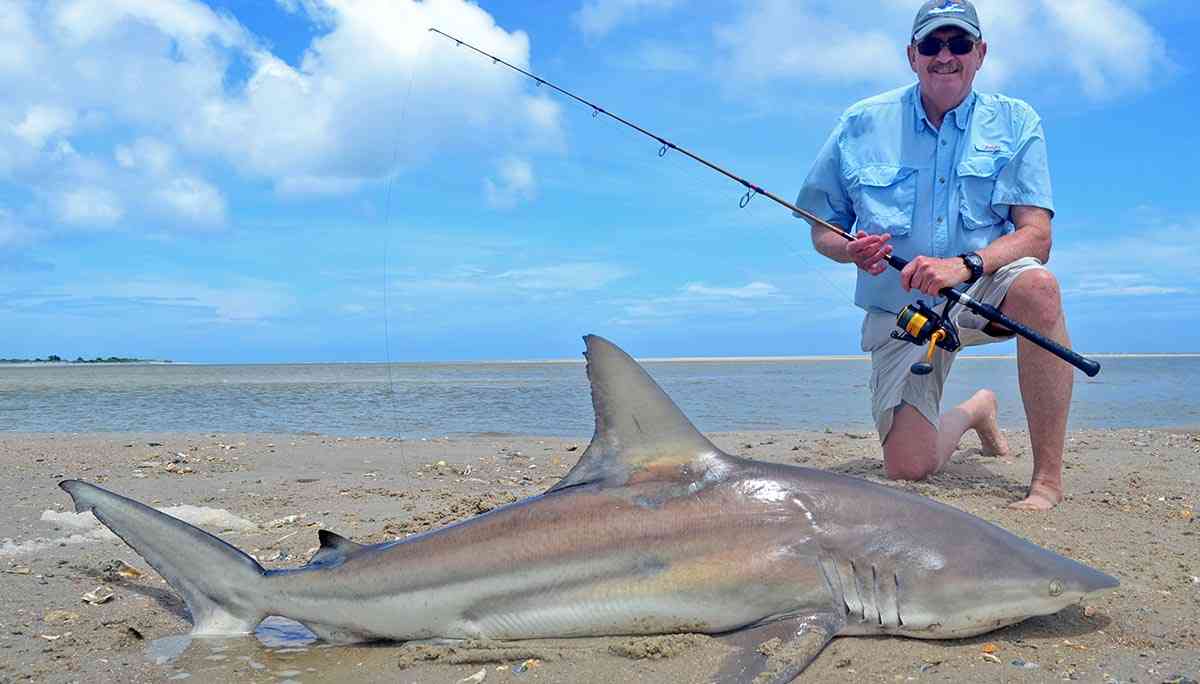 Reeling in Sharks off Myrtle Beach
The adrenaline rush of shark fishing is unmatched, especially when you're doing it off the coast of Myrtle Beach. The Carolina coast offers a thrilling encounter for fishermen of all levels, with its abundance of sharks.
Bear in mind that this thrilling adventure has its season – so planning your trip ahead becomes crucial to ensure a successful day of shark fishing.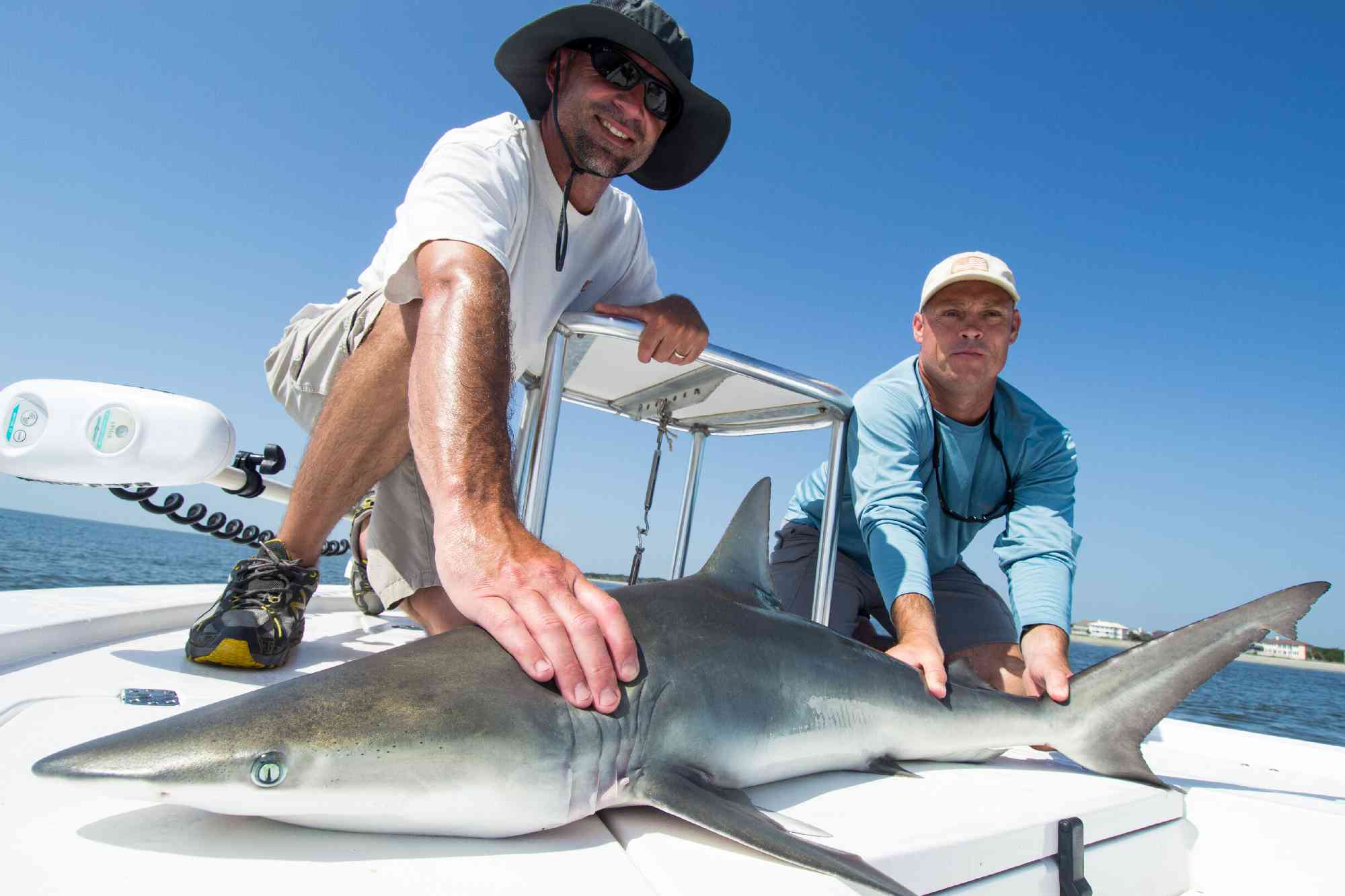 Fishing Season: When To Go Shark Fishing?
Summer brings out the best opportunities for shark fishing along these coasts. During this time, activity among sharks spikes up significantly, making them easier to locate. But don't rule out other seasons entirely, as different types of sharks can be found throughout the year depending on water temperature changes and food availability.
Your local guide service will provide all necessary equipment if needed, and they will also give advice tailored specifically to your trip dates.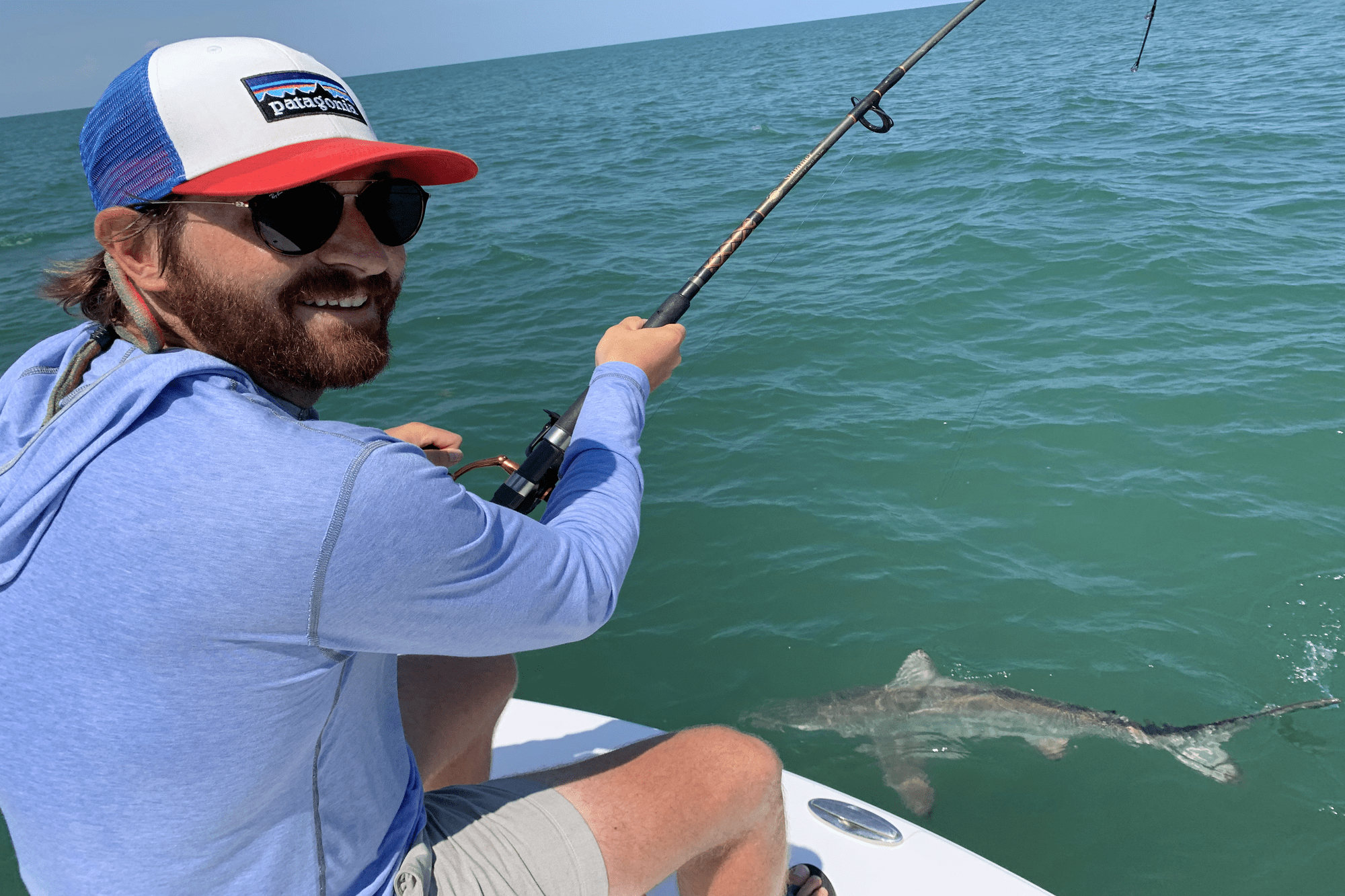 Tackling The Challenge: Tips For Successful Shark Fishing
Catching a shark requires strength, patience, and specialized gear due to their powerful swimming ability, which puts you on the end of quite a fight. Safety should always come first when dealing with creatures as formidable as these sharks. You'll need sturdy rods capable of handling heavy weights, along with strong leader resistant against their sharp teeth. Large oily fish such as mackerel or herring tend to work well, but again, check in with your local guides, who will provide more specific guidance based on current conditions.
To Summarize: 
Myrtle Beach offers an adrenaline-fueled shark fishing experience with the best catches in summer. However, preparation is key – plan your trip ahead and equip yourself properly for this thrilling challenge.
Fish Cleaning Services for Your Catch
Imagine this – you've just wrapped up an unforgettable day of inshore fishing on the South Carolina waters. You're heading back to shore with a cooler full of Sea Trout, and Flounder. Now comes the question: what's next?
You could tackle cleaning your catch yourself, but that can be time-consuming and messy if you don't have experience or proper tools. This is where fish cleaning services come into play.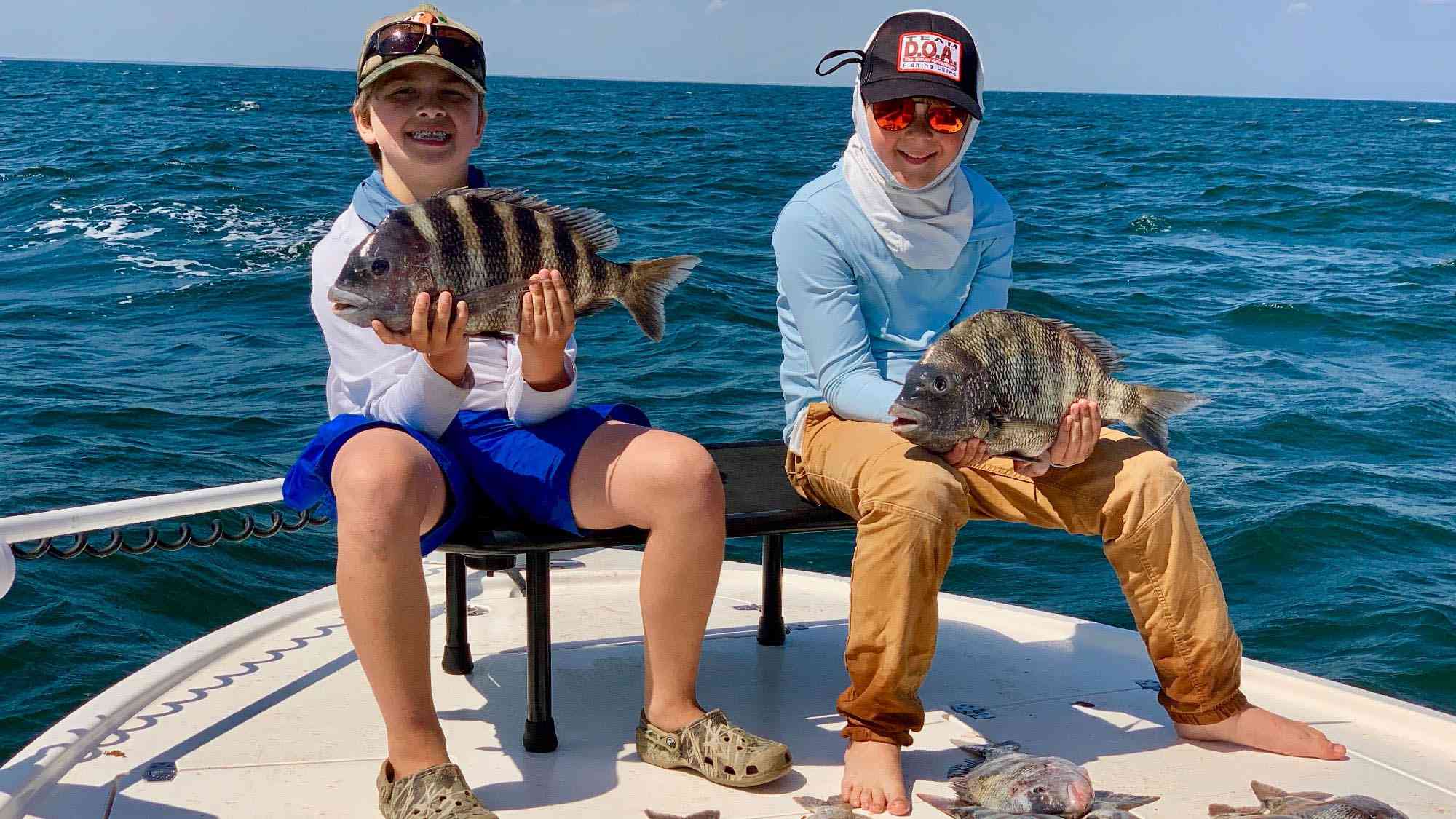 The Advantages of Fish Cleaning Services
Having your fishing guide clean your catch saves valuable time after a long day out at sea, allowing you more relaxation before hitting Pawleys Island (Link) or Myrtle Beach Hotels (Link) for some well-deserved rest.
These experts are skilled in handling different types of fish species found across the South Carolina coast, including Georgetown and Winyah Bay areas; their precision ensures minimal waste while maximizing meat yield from each caught specimen.
Beyond saving effort and ensuring quality cuts, professional cleaners also dispose of unwanted parts responsibly according to local environmental regulations set by the South Carolina Department Of Natural Resources (SCDNR).
To Summarize: 
After a fruitful day of fishing in South Carolina, don't sweat the messy aftermath. Fish cleaning services save you time and effort, ensuring quality cuts from your catch while adhering to local environmental regulations. And if you're more for 'catch-release', they respect that too, helping preserve marine life for future generations.
Preparing for Your Trip – What You Need to Know
Fishing charters are an awesome way to explore the South Carolina coast, but the success of these trips often depends on proper preparation. From group sizes and packing essentials like proper clothing to understanding local fishing regulations, here's what you need to know before setting sail.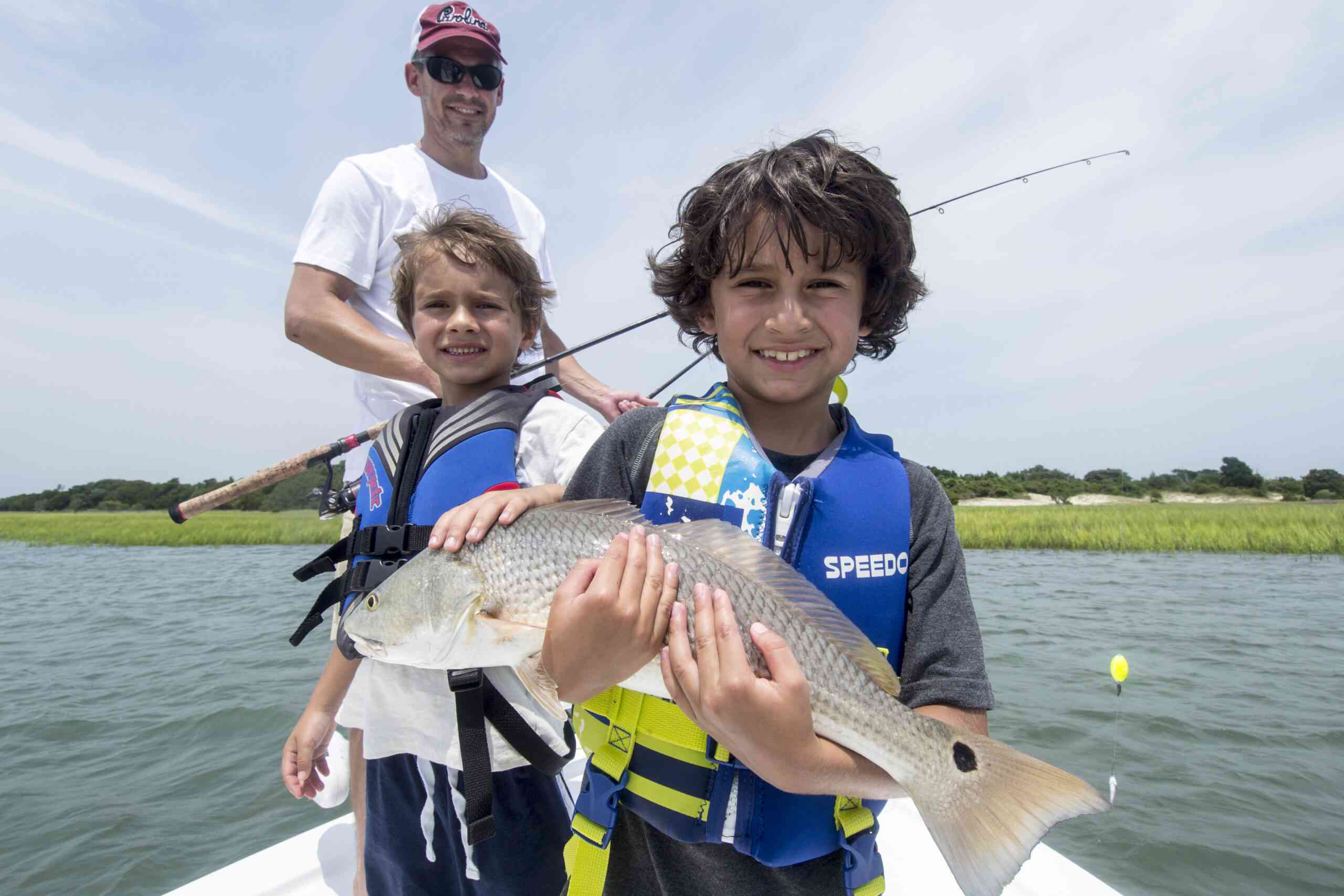 Group Sizes: Less is More
In charter fishing, smaller groups usually lead to better experiences. Limiting your party size to preferably three or four passengers ensures that each angler gets enough attention from our expert guides while maintaining safety standards at all times.
Packing Essentials
Pack sun protection gear (hats, sunscreen), light snacks, water bottles, comfortable clothing suited for weather conditions, polarized sunglasses to help spot fish underwater, and any necessary personal medication.
The Importance of Marine Forecasts
Marine forecasts provide vital information about wind speed/directions, wave heights/timings, etc., and play a crucial role in planning a successful outing. It's not only important to check these forecasts before departure but also to keep an eye on them throughout the day, as marine weather can change rapidly.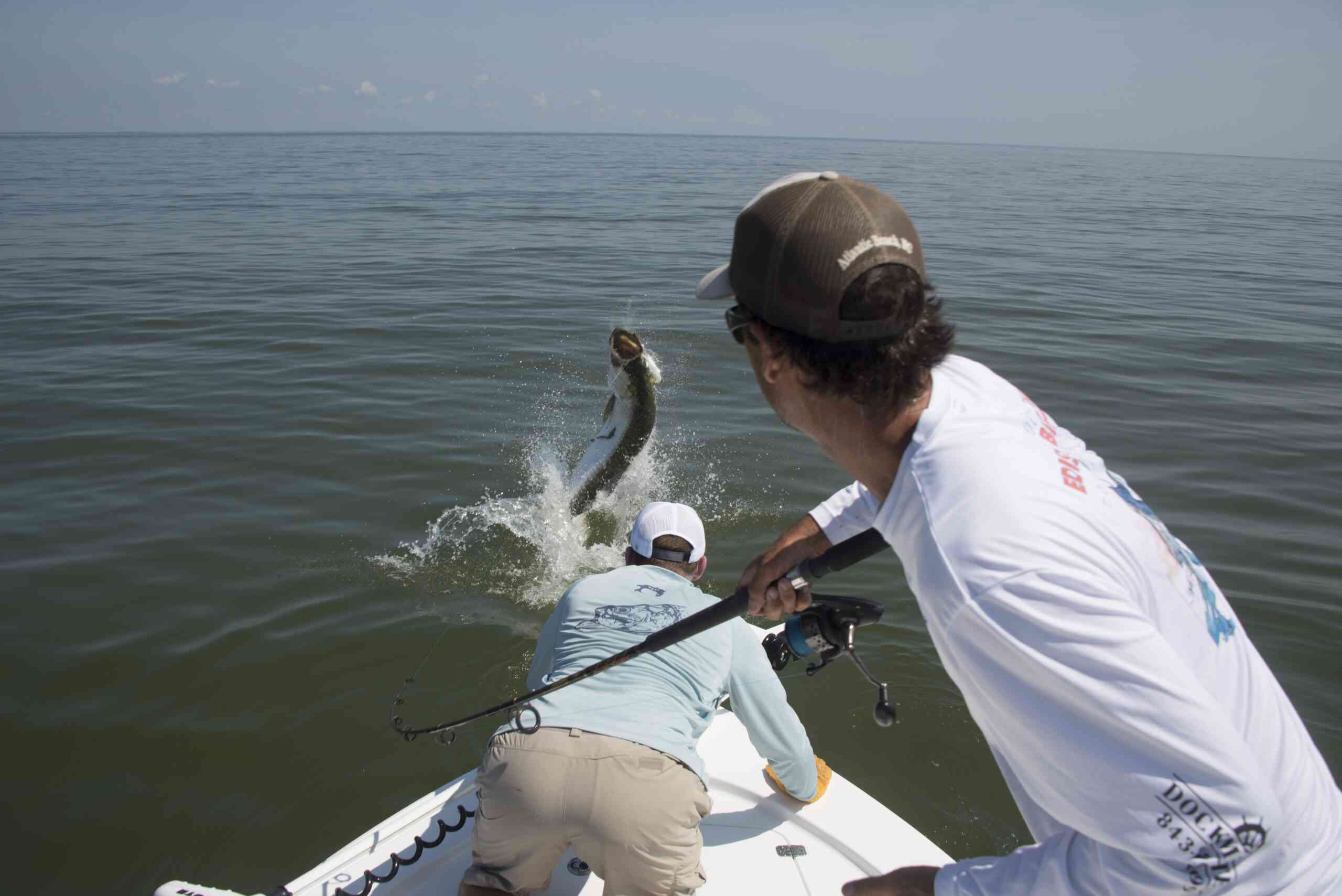 Navigating SC State Records & Regulations
Before embarking on any adventure across the pristine saltwater estuaries of South Carolina, it is essential to familiarize yourself with state records and regulations pertaining to catch limits/sizes, among other things.
The South Carolina DNR has an extensive list of the biggest catches for different kinds of fish in the state.
On the other hand, the DNR also manages and outlines rules governing recreational and commercial fisheries alike, ensuring the sustainable use of resources for future generations to enjoy as well.
To Summarize: 
Successful Myrtle Beach fishing charters hinge on proper preparation – keep group sizes small for a personalized experience, pack essentials like sun protection gear, stay updated with marine forecasts, and familiarize yourself with South Carolina's fishing regulations to ensure a safe and enjoyable adventure.
Where To Stay – Accommodation Options
Once you disembark from the boat, your fishing journey is not over yet; rather it's time to experience the coastal lifestyle, including finding a place to stay. It's about immersing yourself in the coastal lifestyle, and that includes where you lay your head at night.
If a serene retreat is what you're after, Pawleys Island might just be your ticket. This historic resort town offers natural beauty coupled with Southern charm that will make for an unforgettable stay during your South Carolina coast adventure. Check out their website to find accommodations suited to every fisherman's needs.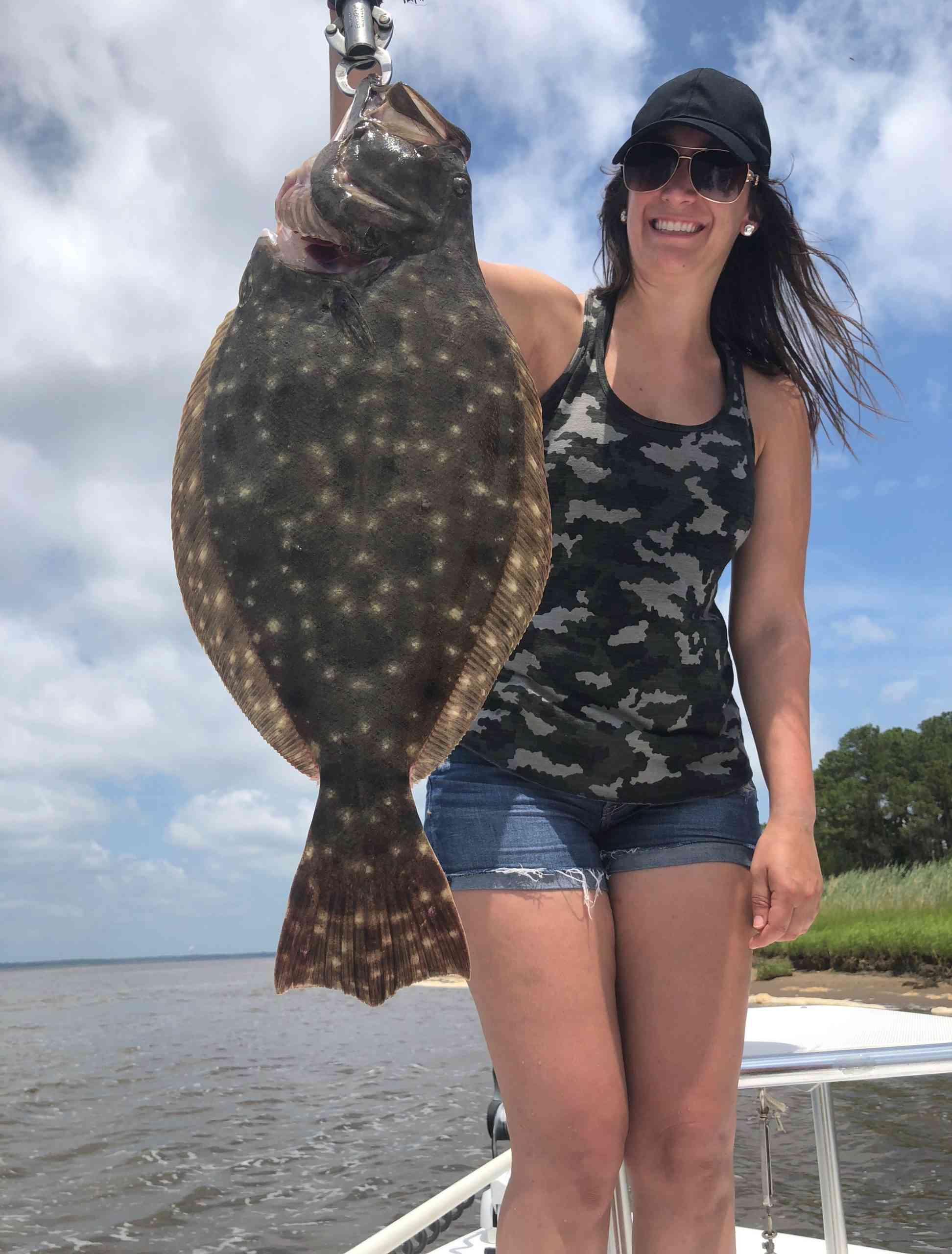 McClellanville Rentals: The Perfect Getaway Spot
Situated between Georgetown and Charleston lies McClellanville – a small village steeped in history and surrounded by stunning landscapes. If tranquility is high on your list of priorities while choosing accommodation, this place won't disappoint.
This charming hamlet provides easy access to some prime fishing grounds while offering peace away from bustling tourist spots once the day winds down.
Tips For Choosing Your Base Camp
Your Budget: Be realistic about how much money you can afford to spend on lodging without sacrificing the comfort or enjoyment of the trip. Take into account not only room rates but also meals, transportation, and other incidental expenses.
The Location: Depending upon the type of charter booked (inshore or nearshore), you may want to choose a closer departure point to save travel time in the morning and return in the evening. Also, take into account the proximity to local attractions, dining establishments, etc., to make your stay as enjoyable as possible.
Amenities Required: Each individual has unique requirements when it comes to lodging preferences; whether it's Wi-Fi, a pet-friendly environment, or laundry facilities, they matter with utmost importance. Make sure to list your must-haves before you search for the perfect abode. Make it so rock-solid that there are no surprises when check-in day arrives. No matter the destination of your new home, ensure you have a clear plan in place.
To Summarize: 
When planning your Myrtle Beach fishing charter adventure, don't overlook the importance of choosing the right accommodations. Consider serene retreats like Pawleys Island or tranquil getaways such as McClellanville. Remember to factor in budget, location and personal preferences for amenities while selecting your base camp.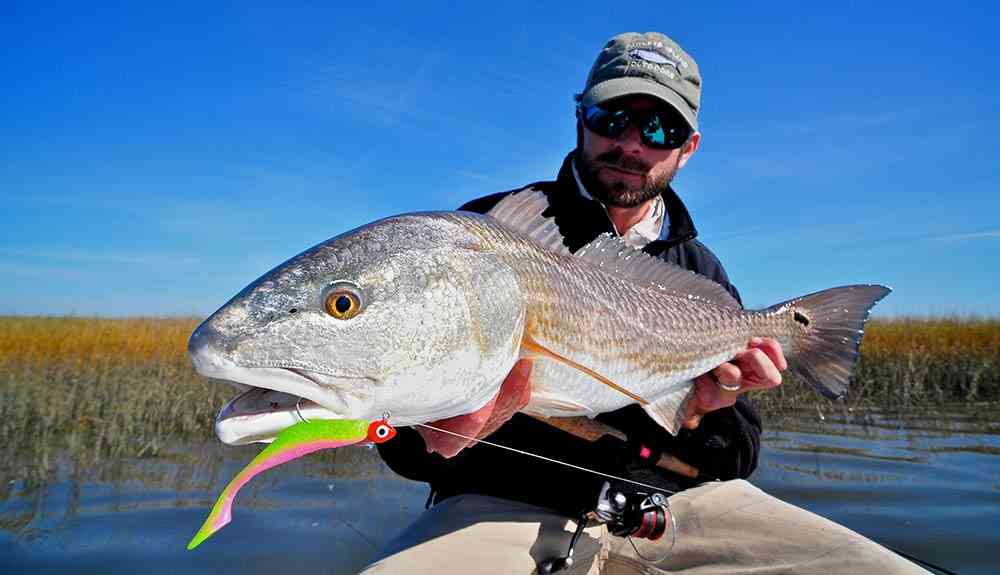 Carolina Guide Service is your ticket to the Myrtle Beach fishing adventure of a lifetime.
Inshore or nearshore, each charter offers unique experiences and bountiful catches.
Spring and fall for inshore fishing, summer for nearshore – every season brings its own opuurtunities.
The waters off Myrtle Beach are teeming with Redfish, Sea Trout, Black Drum, and more.
With expert guides at the helm, even remote fishing areas become accessible playgrounds filled with diverse marine life.
South Carolina's pristine saltwater estuaries offer unparalleled beauty and rich aquatic biodiversity.
Daredevils can test their mettle reeling in sharks off Myrtle Beach while others might prefer the tranquility of fly-fishing amidst nature's splendor.
Join us as we navigate South Carolina's waters on our Myrtle Beach Fishing Charters – where every trip promises an unforgettable experience!