Summertime is the right time for shark fishing. When South Carolina coastal water temperatures begin increasing, a variety of shark species will begin showing up in pristine inshore and nearshore waters south of Myrtle Beach. Shark fishing is a simple, fun, and sustainable activity that is suitable for the entire family.
The sharks that are most often caught in our area include blacktip and sandbar sharks that are typically under 50 pounds, and bonnetheads in the 10-20 pound range.  Larger species of shark that can be hundreds of pounds, such as spinners, lemons, and bull sharks can also be caught in the area.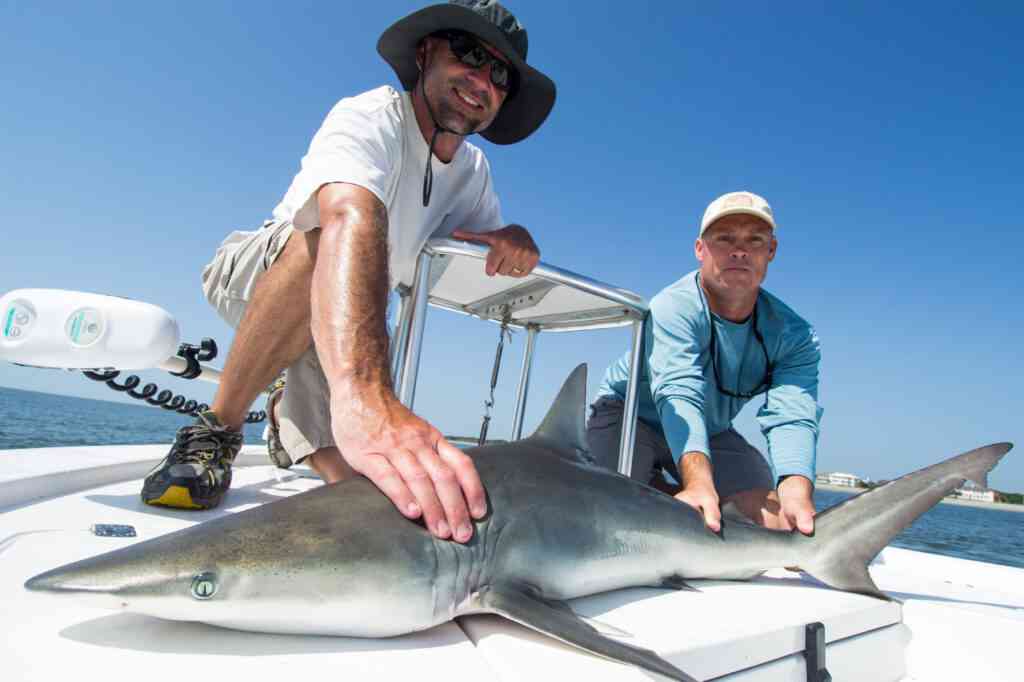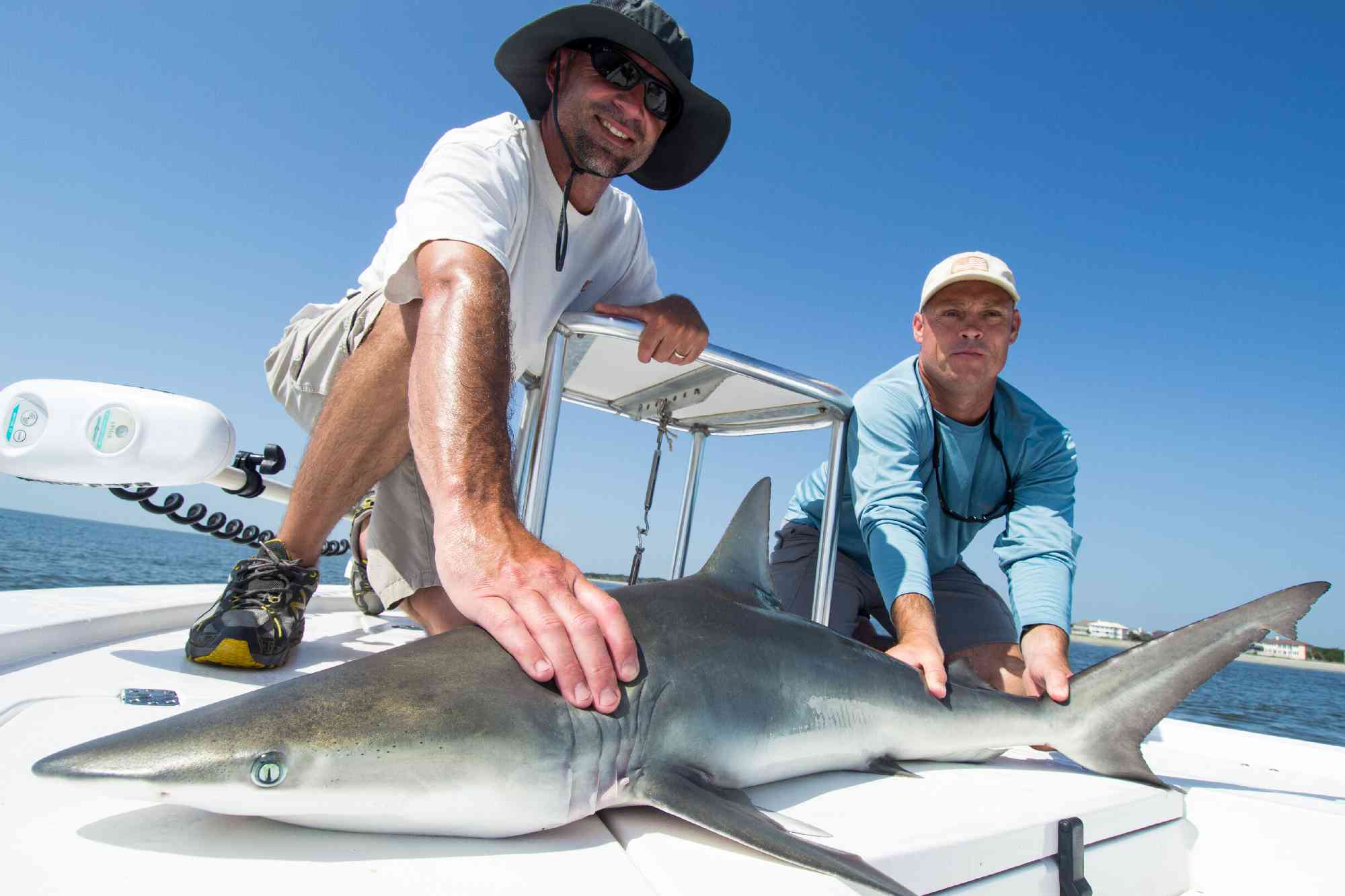 To catch sharks we use heavier rods and reels, with strong mainline and wire leader to prevent the shark's teeth from easily cutting the line.  Even small sharks put up a great fight that can test the limits of your gear. So be prepared for a serious battle if you hook a large shark.
As opportunistic predators, sharks will be drawn in by feeding, injured, or cut up fish. We most often shark fish in the protected waters of jetties and inlets, and we sometimes fish nearshore wrecks or bait schools when the weather permits.
One popular strategy for catching sharks is to anchor up close to these prime areas and chum the waters with baitfish from the area, such as ground-up menhaden. This will attract a variety of fish and sharks to the area looking for an easy meal.
Next, larger chunks of bait are rigged up on circle hooks attached to wire leaders and cast into the slick, and allowed to settle to the bottom. Enough weight is used on the line to hold the bait on the bottom.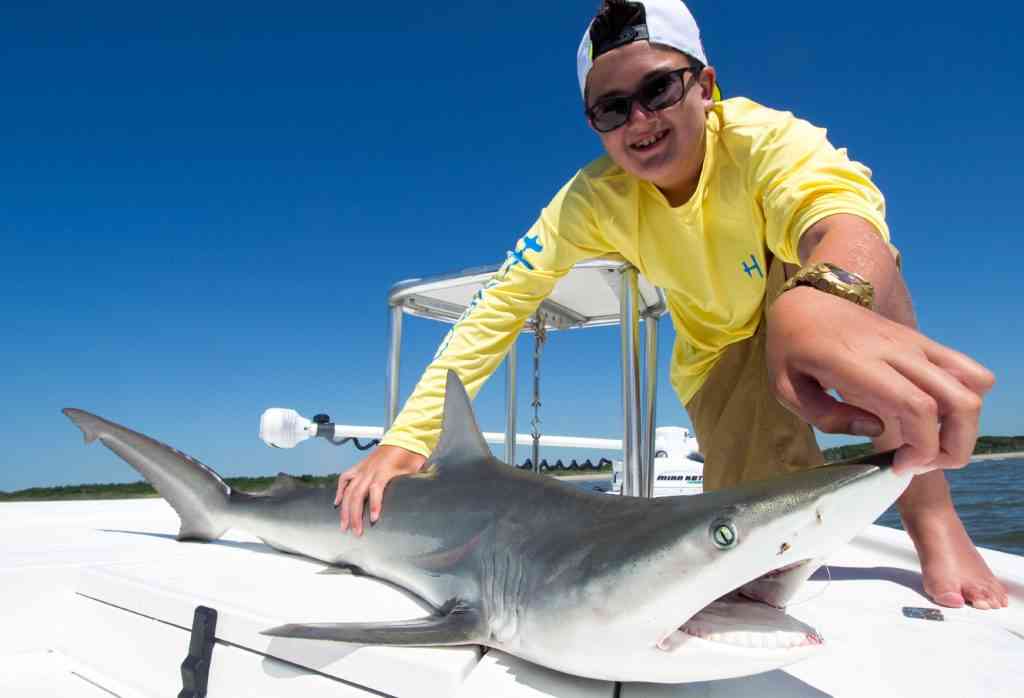 Did you know that sharks can be great to eat as well?
Although shark harvesting regulations are complicated to the layperson, two species that are often caught along the South Carolina coast can be harvested if clients would like to eat them. Anglers can keep one bonnethead and two Atlantic sharpnose sharks per day.
Shark meat is more dense than fish and can be compared to a tender pork chop. A similar preparation of cooking on a grill with barbecue sauce is a great option to try shark meat.
Schedule your family summer shark fishing adventure with Captain Jordan to experience the thrill of catching one of these apex predators from the deep blue.