Last Updated on April 21, 2023 by Eric Bonneman
For anglers seeking a true challenge and the ultimate fishing experience, Myrtle Beach fishing offers a chance to pursue the majestic "Silver King." Known for their impressive size and acrobatics, tarpon provide unforgettable memories that will last a lifetime. South Carolina's coastal waters serve as a prime location for tarpon fishing from June through October.
The Majestic Tarpon
Tarpon, the apex predator of inshore gamefish, are a migratory species that frequent the South Carolina coast. Averaging 80-100 pounds, these powerful fish are known for their dramatic acrobatics and sheer strength. The tarpon migration begins in late May and lasts until the end of October, providing anglers with ample opportunities to test their skills against these formidable creatures.
Fly Fishing for Tarpon
South Carolina offers unique opportunities for fly fishing enthusiasts. While sight fishing for cruising tarpon may not always be possible due to water clarity, casting to rolling or feeding tarpon is a common practice. Anglers typically use 11wt and 12wt fly fishing outfits, along with custom flies tied by local guides, for a thrilling and challenging experience.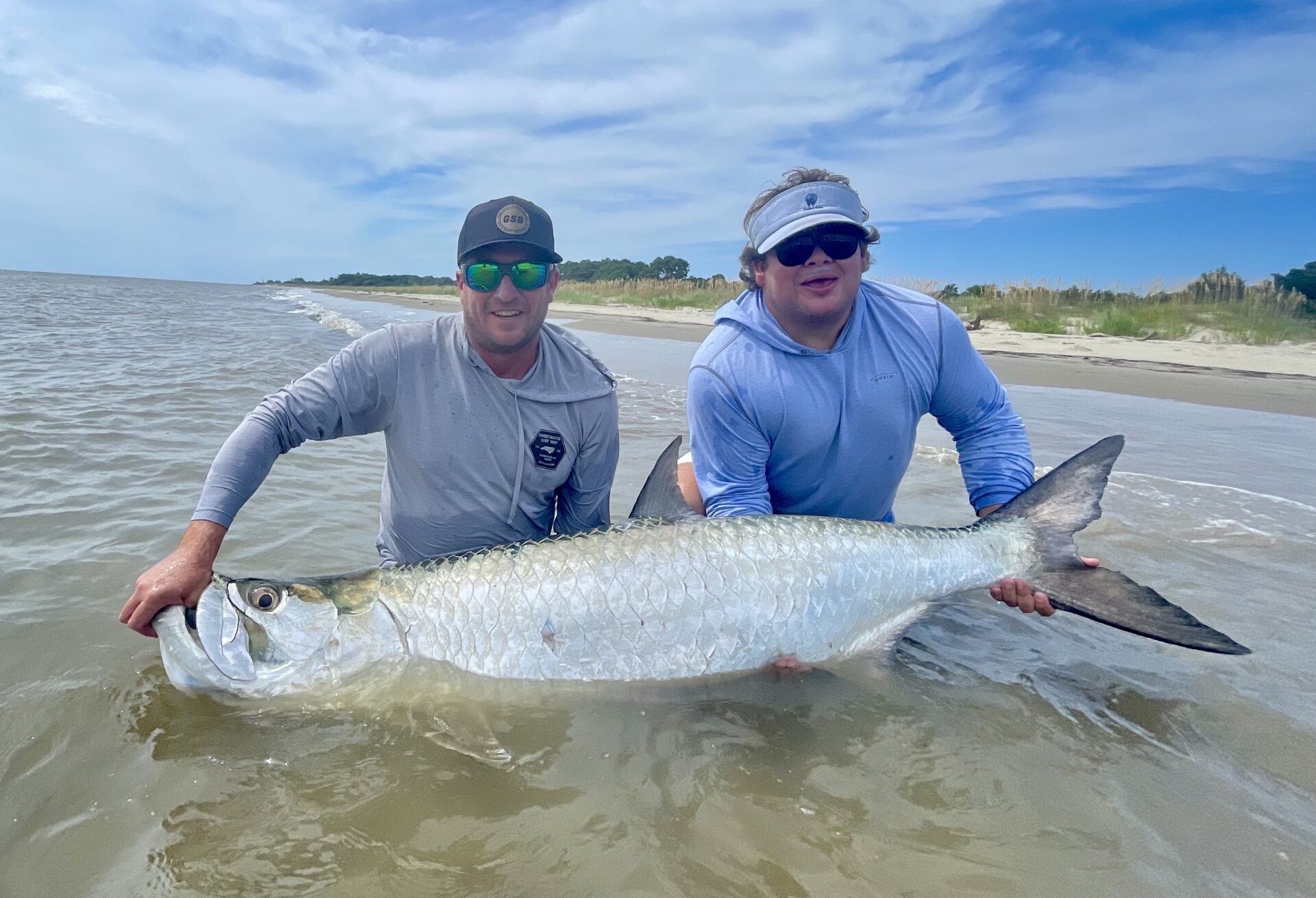 Tarpon Fishing Locations
Focusing on areas around Winyah Bay, Santee Delta, and Cape Romain, tarpon fishing charters offer diverse fishing opportunities. Tarpon can be found in the ocean, estuaries, and rivers, providing exciting fishing experiences even on windy days. Charters generally depart from Georgetown Landing Marina, with other launch points available throughout the area.
Catering to All Skill Levels
Tarpon fishing charters cater to anglers of all skill levels. Whether you're a seasoned angler or a beginner, experienced guides will help you hook and land a tarpon.
Best Time for Tarpon Fishing
Tarpon begin arriving in South Carolina's coastal waters in June, with peak migration occurring during the mullet run in September. July, August, and September offer the best opportunities for successful tarpon fishing.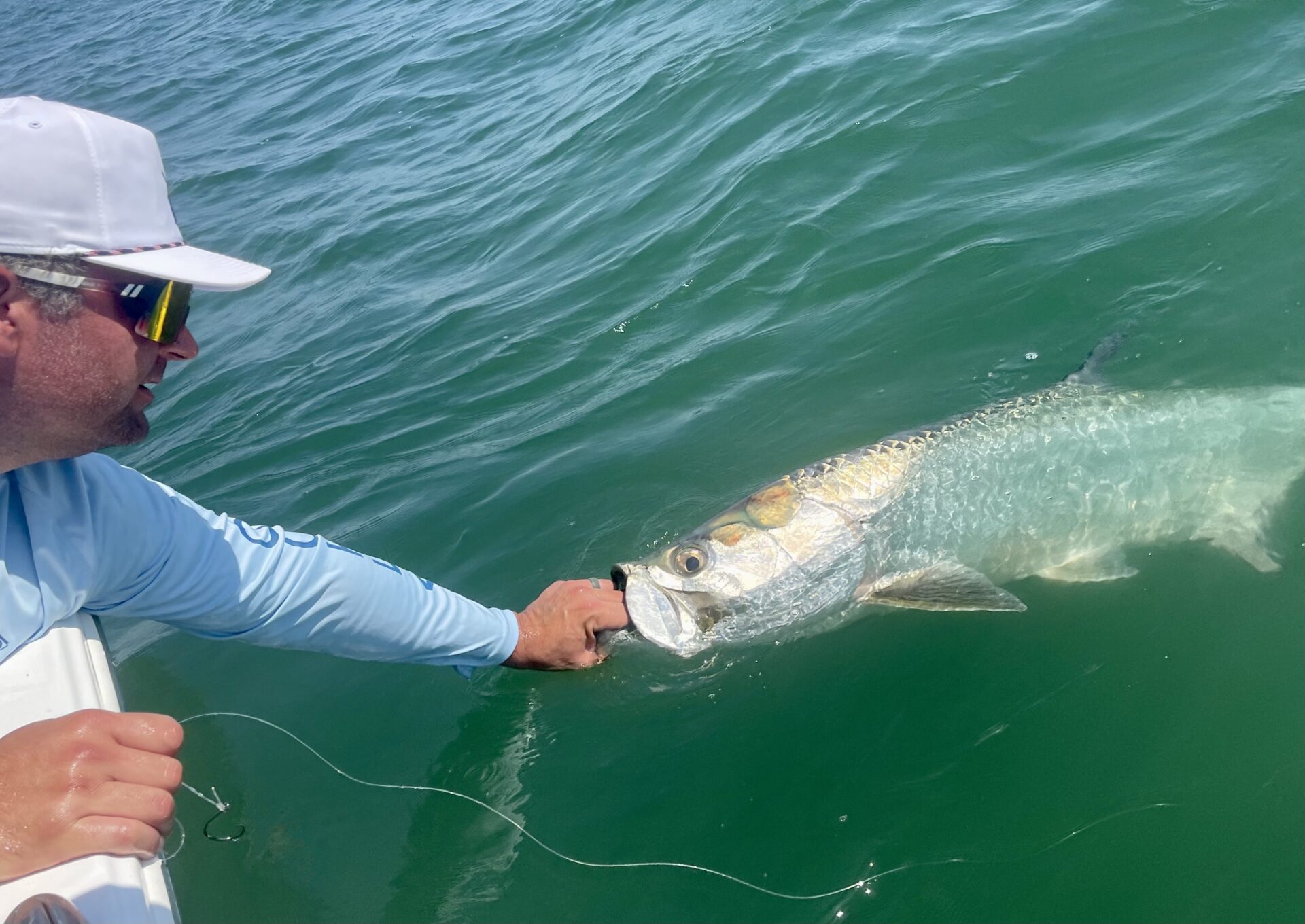 First-Time Tarpon Fishing Experience
For first-time tarpon anglers, patience and a good sense of humor are essential. After catching fresh bait, guides will work tirelessly to provide clients with the best chance of hooking a tarpon. If fishing is slow, guides may set up in areas where bull redfish, sharks, or other species can be caught to keep anglers engaged.
It's Your Turn!
Ready to take on the challenge of the Silver King? Carolina Guide Service is the perfect choice for a tarpon fishing charter along the South Carolina coast. With experienced guides who cater to anglers of all skill levels, you'll have the best shot at taking on the challenge of the Silver King. With their dedication and expertise, you can rest assured that you are in capable hands. Whether you are a seasoned angler or a novice, the guides at Carolina Guide Service will ensure that you have an unforgettable experience. Don't miss out on the thrill of a lifetime – book your tarpon fishing charter with Carolina Guide Service today and create lasting memories that you'll cherish for years to come.