Last Updated on November 20, 2023 by Eric Bonneman
While most folks might associate fishing with warmer months, winter here has its own appeal. The waters are less crowded, offering a peaceful experience for those who venture out. It's a time when the hustle of summer fades, leaving the waters of places like Georgetown and Myrtle Beach calm and inviting.
At Carolina Guide Service, we understand the ins and outs of winter fishing in this region. We're locals who've spent countless hours on these waters, learning the seasonal patterns and the best spots for a rewarding catch. Our approach is straightforward – we focus on providing a great fishing experience, tailored to what you're looking for. Whether you're a seasoned angler or trying out winter fishing for the first time, we're here to guide you through it, ensuring a good time out on the water. So, let's gear up and explore what winter fishing in South Carolina has to offer!
Winter Fishing Shines in South Carolina
Winter fishing in South Carolina is something special, and it's not just us at Carolina Guide Service who think so. This time of year, the waters from Georgetown to Myrtle Beach, and down to Kiawah Island, take on a different kind of life. It's quieter, for starters. You won't find the summer crowds, which means more space and peace for you and the fish. There's something about casting a line in the crisp winter air that just feels right.
The fish themselves seem to appreciate the cooler temperatures too. You'll find the likes of redfish and speckled trout are pretty active, making for some exciting catches. Plus, the changing environment brings a bit of a challenge, but in a good way. It's not the same old routine as in the warmer months. You get to see a different side of places like Winyah Bay or the marshes around Pawleys Island.
In South Carolina, our marine environment is diverse, and winter only adds to that. Each spot, whether it's the inlets near Murrells Inlet or the waters around Edisto, has its own winter character. It's a great time to explore these places, with each offering a unique experience. So, if you're up for a bit of adventure and some good fishing, winter in South Carolina won't disappoint.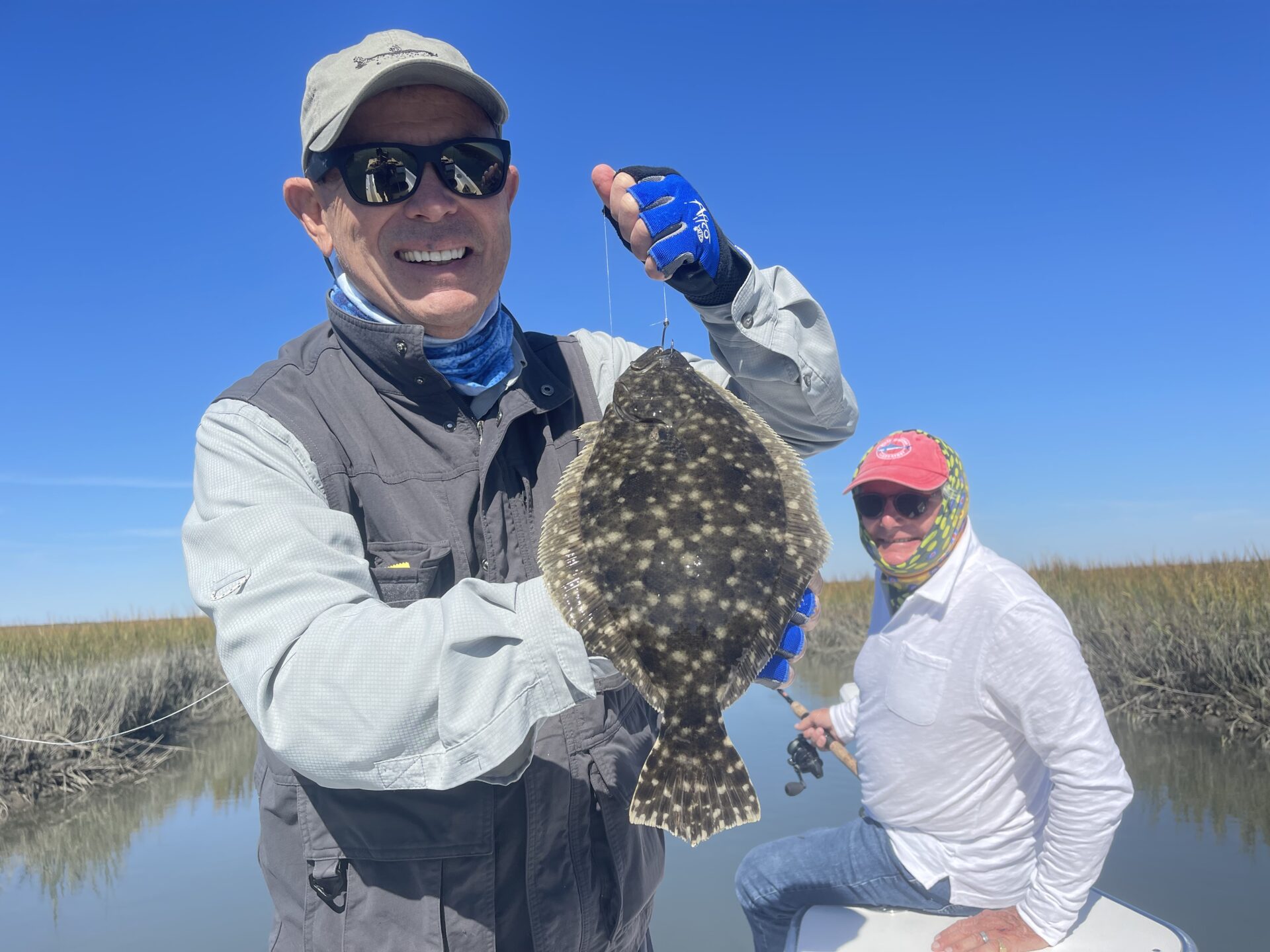 Prime Winter Fishing Locations
Winter fishing in South Carolina? It's a whole different ball game. Let me walk you through some spots where you'll find a good day's catch and a good time.
Georgetown – Winyah Bay: Come winter, this place is quiet, real quiet. The water's calm, and it's just you and the fish. It's a good spot if you like a bit of peace with your fishing.
Myrtle Beach: You might know it for its summer buzz, but in winter, it's a whole different story. The inshore waters are calm and clear – great for a laid-back day of fishing. No fuss, just good fishing.
Pawleys Island: If you're into scenic views while you fish, this is your spot. The marshes and creeks here are something else in winter. It's more about enjoying the quiet and less about battling crowds.
Kiawah and Edisto Islands: Looking for a getaway feel? These islands in winter are about as close as you get to having the waters to yourself. It's nice and remote, perfect for some uninterrupted fishing.
Charleston: This place has a bit of everything. Winter fishing here means fewer boats and more space for you. It's a great mix of good fishing and a bit of peace and quiet.
Each of these spots offers something special in winter. It's not just about what you catch; it's also about enjoying the time on the water, where things are a bit slower and a whole lot quieter.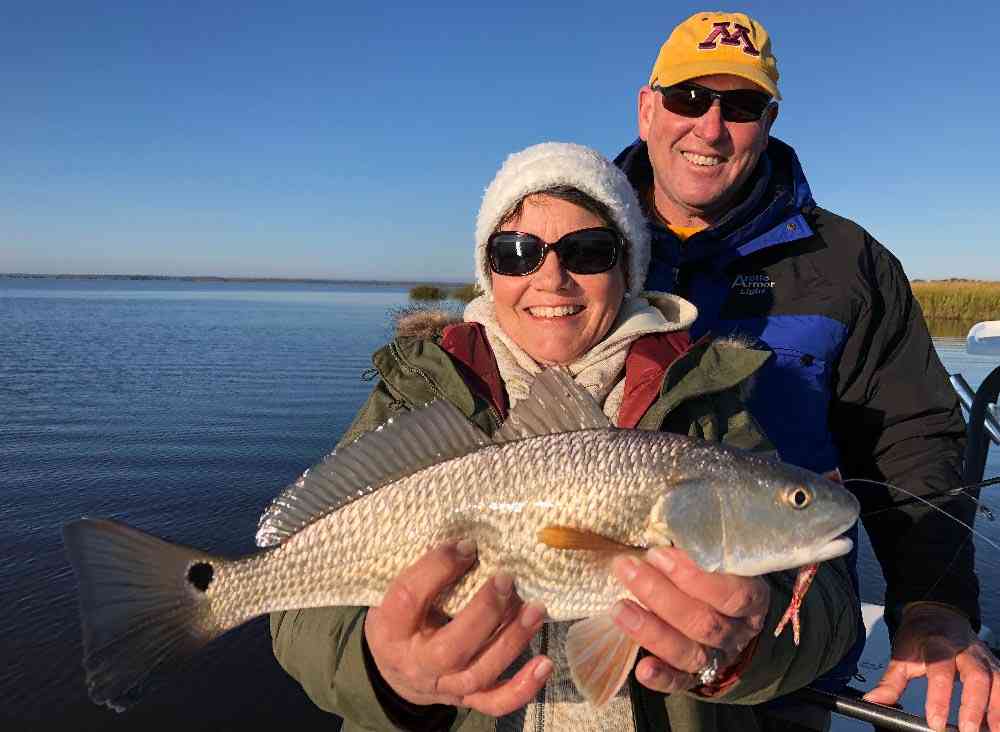 Winter Fish Species and Targeting Strategies
Now, talking about winter fishing in South Carolina, you've got quite a few fish that like to show up when the water gets chilly. Sure, there's your redfish and speckled trout – they're the regulars. But that's not all. You've got sheepshead, which are pretty active in the cold. Black drum too, they're around and make for a good catch. Flounder? Yeah, they're a bit more scarce, but still there. Let's not forget about the striped bass, especially in freshwater inlets and rivers.
When it comes to how you fish in winter, it's a bit different. You're not looking to make a big splash. It's more about being patient and keeping things slow and steady. The fish are moving slower because of the cold, so your lure or bait needs to match that pace. Think about slow retrieves, maybe letting your bait sit a bit longer. It's not about fancy gear or special lures; it's more about how you use what you've got.
In short, winter fishing here is about knowing your fish and adjusting your approach. It's cold, the fish are taking it easy, and so should you. Just relax, take your time, and enjoy being out there. The fish will come, just give them a chance to find what you're offering.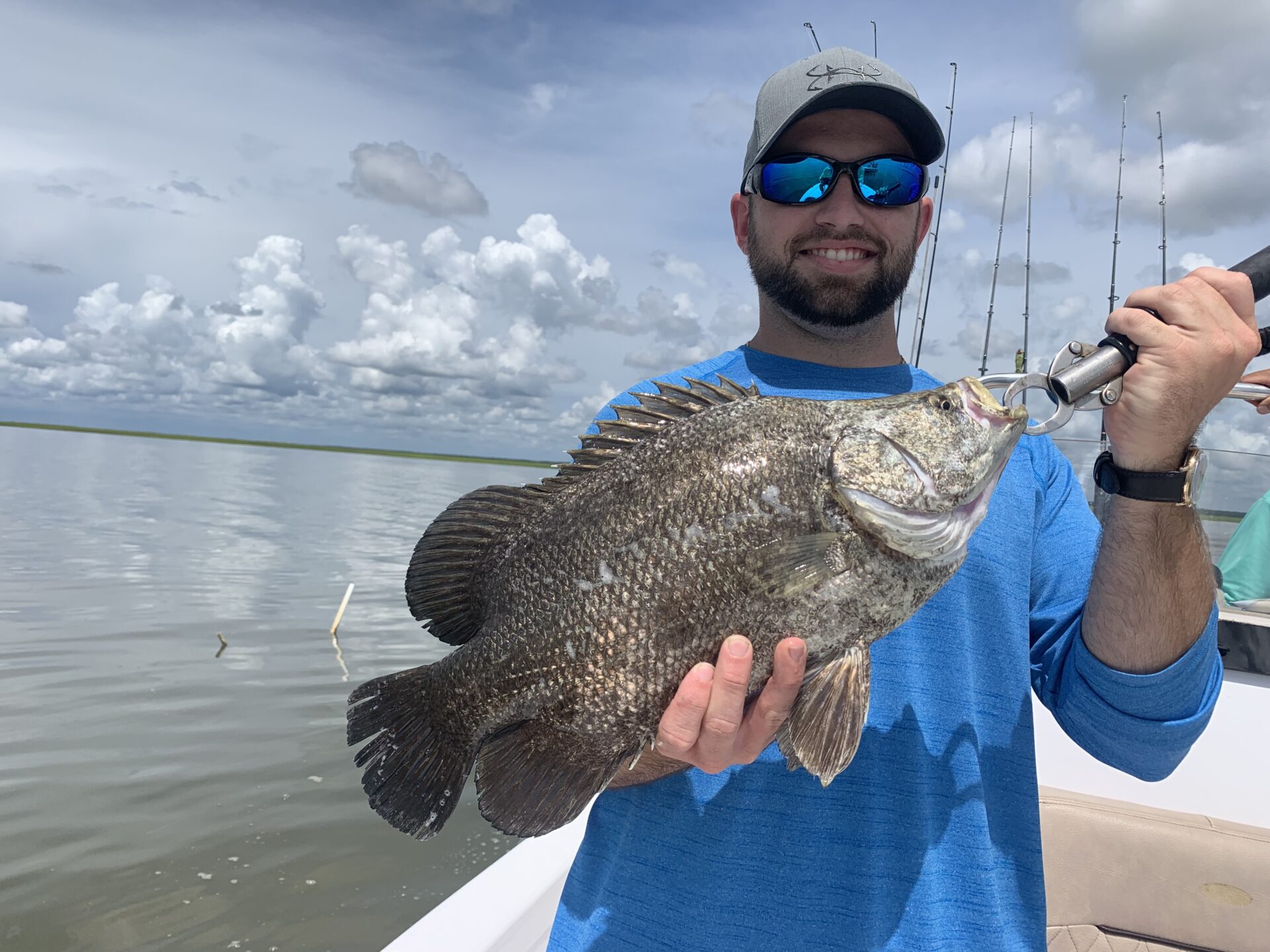 Charter Options for Winter Fishing with Carolina Guide Service
At Carolina Guide Service, we offer a range of winter fishing charters to suit any angler's preference. Here's a breakdown of what you can expect:
Inshore Fishing Charters: These are great for those who prefer staying close to the coastline. Targeting species like redfish, speckled trout, and black drum, our inshore trips take you through the scenic estuaries and shallow waters. It's a relaxed setting, perfect for both beginners and experienced anglers looking for a leisurely day on the water.
Nearshore Fishing Charters: For a bit more adventure, our nearshore charters venture out a little further into the ocean. This option opens up opportunities for different species, including sheepshead and the occasional flounder. It's a great middle ground between inshore calm and offshore excitement, ideal for those looking to experience a bit more without going too far out.
Fly Fishing Charters: Winter is a fantastic time for fly fishing, and our charters cater to both novices and seasoned fly fishermen. The cooler waters bring a unique challenge to this style of fishing, making it an engaging experience. Our guides are well-versed in the art of fly fishing and can provide tips and techniques to enhance your experience.
Family-Friendly Charters: We believe fishing is a family affair, and our family-friendly charters are designed to be enjoyable for all ages. These trips are tailored to be fun, educational, and safe, ensuring a memorable experience for both kids and adults. We focus on creating an environment where everyone can learn and enjoy the thrill of fishing.
Each of these charters is designed to provide a unique and fulfilling winter fishing experience, catering to different styles and preferences. Whether you're looking to enjoy a peaceful day inshore or seeking a little more adventure nearshore, Carolina Guide Service has you covered.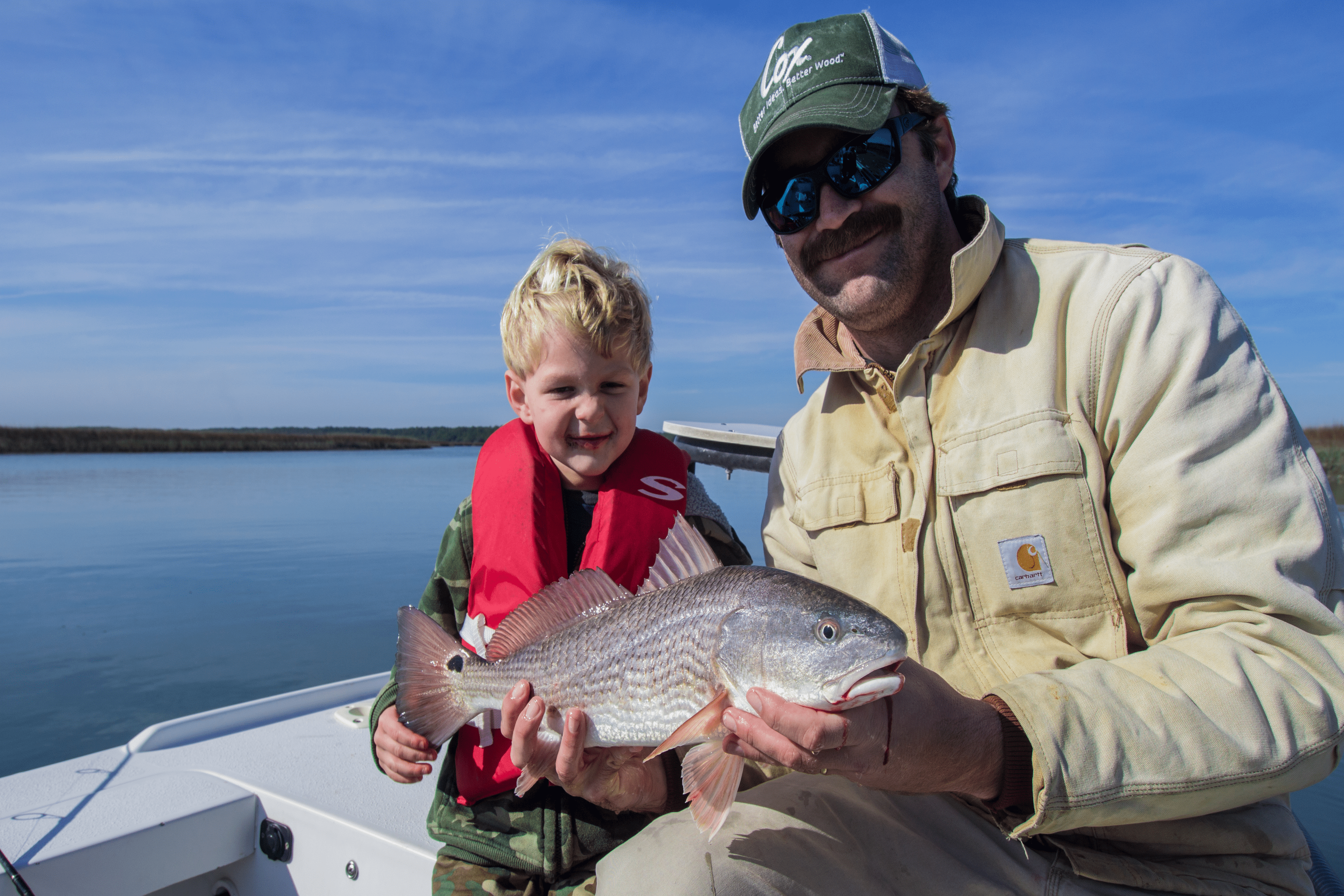 Family and Group Winter Fishing Experiences
At Carolina Guide Service, we know that fishing can be a fantastic way for families and groups to bond, especially during the winter season. That's why our winter charters are all about making sure everyone, no matter their age or skill level, has a great time.
We tailor our trips to fit the needs of families and groups. Whether it's a family outing with young kids or a group of friends looking for a winter adventure, we adjust the pace and style of the trip accordingly. For families, it's all about creating a fun and safe environment. We make sure the little ones are engaged, learning a bit about fishing, and most importantly, having a blast. For groups, it's about finding the right mix of relaxation and excitement.
Our winter charters offer the perfect opportunity for everyone to enjoy the quieter side of South Carolina's waters. It's a chance to get away from the usual routine, breathe in some fresh air, and maybe even spark a new interest in fishing.
So, whether you're a family seeking a unique outing or a group of friends looking for a different kind of winter experience, Carolina Guide Service is ready to make it happen. We're here to ensure that your winter fishing trip is enjoyable, memorable, and just right for your group.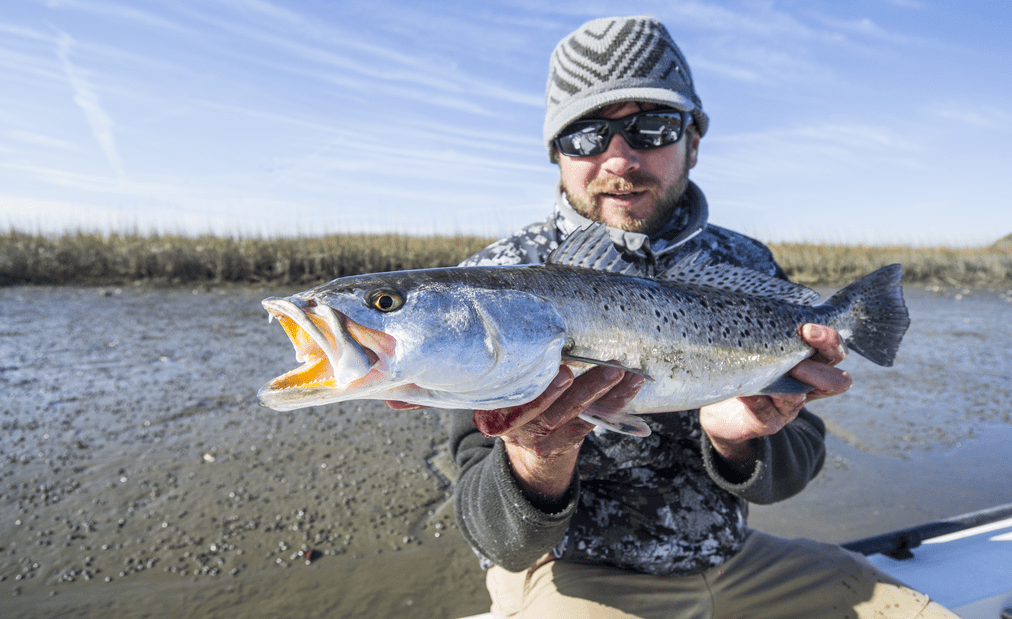 Gearing Up for Winter Fishing: Tips and Essentials
When you're heading out for some winter fishing in South Carolina, staying warm and dry is key. You don't need anything fancy, but you do need to be prepared. A good, waterproof jacket is a must – it keeps you dry and blocks the wind. Layering is your friend; wear a thermal base layer and a warm sweater or fleece. Don't forget your legs; waterproof pants are a smart choice.
For your feet, warm, waterproof boots are the way to go. Cold feet can ruin a good fishing day. A warm hat and gloves are also essential – you'd be surprised how much warmer you'll feel with your head and hands covered.
At Carolina Guide Service, we make sure our clients are well-prepared for the conditions. We'll give you a heads-up on the weather forecast and advise on the best clothing choices for your trip. And don't worry too much about the fishing gear; we've got that covered. We provide all the necessary equipment, so you can focus on enjoying your fishing experience.
Remember, winter fishing is all about enjoying the quieter, cooler days on the water. With the right gear, you'll be comfortable, warm, and ready to make the most of your fishing adventure.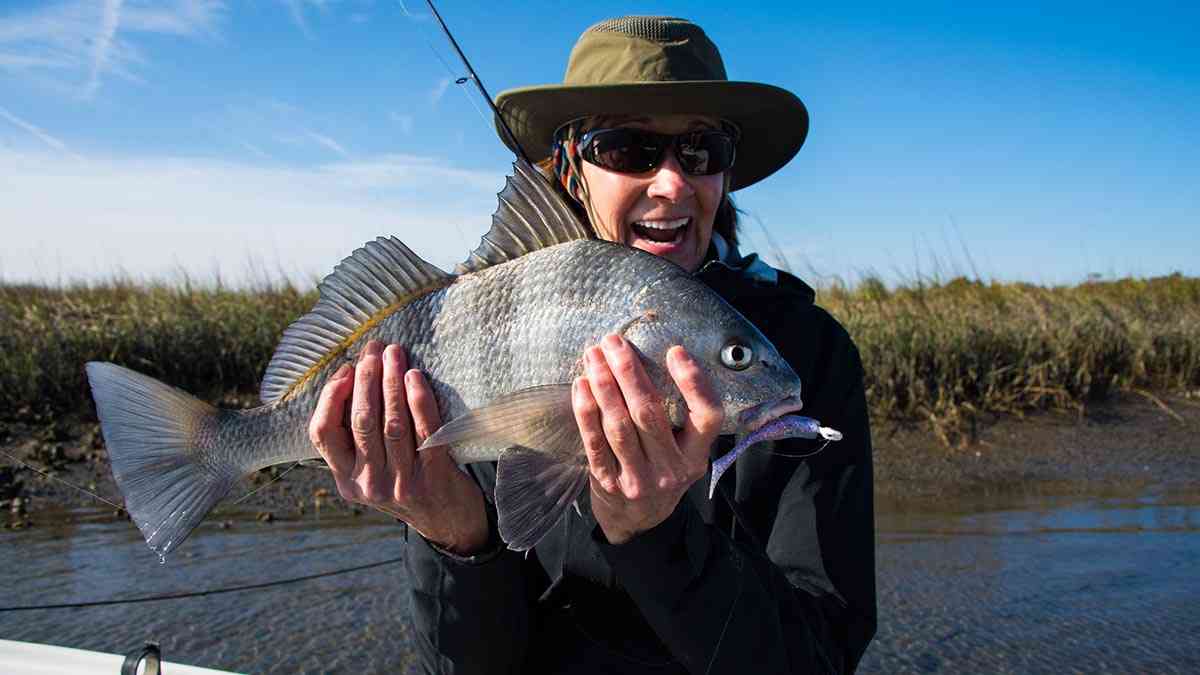 Sustainable Fishing and Conservation in Winter
In winter, just like any other time of year, fishing sustainably is crucial. It's all about respecting the fish and the waters they live in. This means following size and bag limits, and practicing catch and release when it's the right thing to do. Keeping the fish population healthy is important for future fishing seasons.
Here at Carolina Guide Service, we take conservation seriously. We're committed to sustainable fishing practices. This includes using the right techniques to ensure the health and survival of released fish, and educating our clients about the importance of conservation. We love these waters and the fish in them, and we want to make sure they're around for future generations to enjoy.
It's not just about the catch; it's about maintaining a healthy, balanced ecosystem. That's something we all can contribute to, and it ensures great fishing for years to come.
Navigating Winter Weather and Fishing Conditions
Winter weather in South Carolina can throw a curveball or two when you're out fishing. Cold fronts, chilly winds, sometimes a bit of rain – you've got to be prepared for a range of conditions. It's all about adapting. Dressing in warm, waterproof layers is key. You want to stay comfortable so you can focus on the fishing, not the cold.
At Carolina Guide Service, we're always tuned into the local weather patterns. We plan our trips around the weather, making sure we're hitting the water when conditions are right for a good day of fishing. If the weather turns too rough, we won't take any chances – safety first, always.
In winter, the fish behave differently, moving to warmer or deeper waters. We adjust our spots and techniques accordingly. It might mean exploring different areas or changing up how we fish. But that's part of the fun – figuring out where the fish are and how to catch them, no matter the weather. That's winter fishing for you – a little challenging, but always rewarding.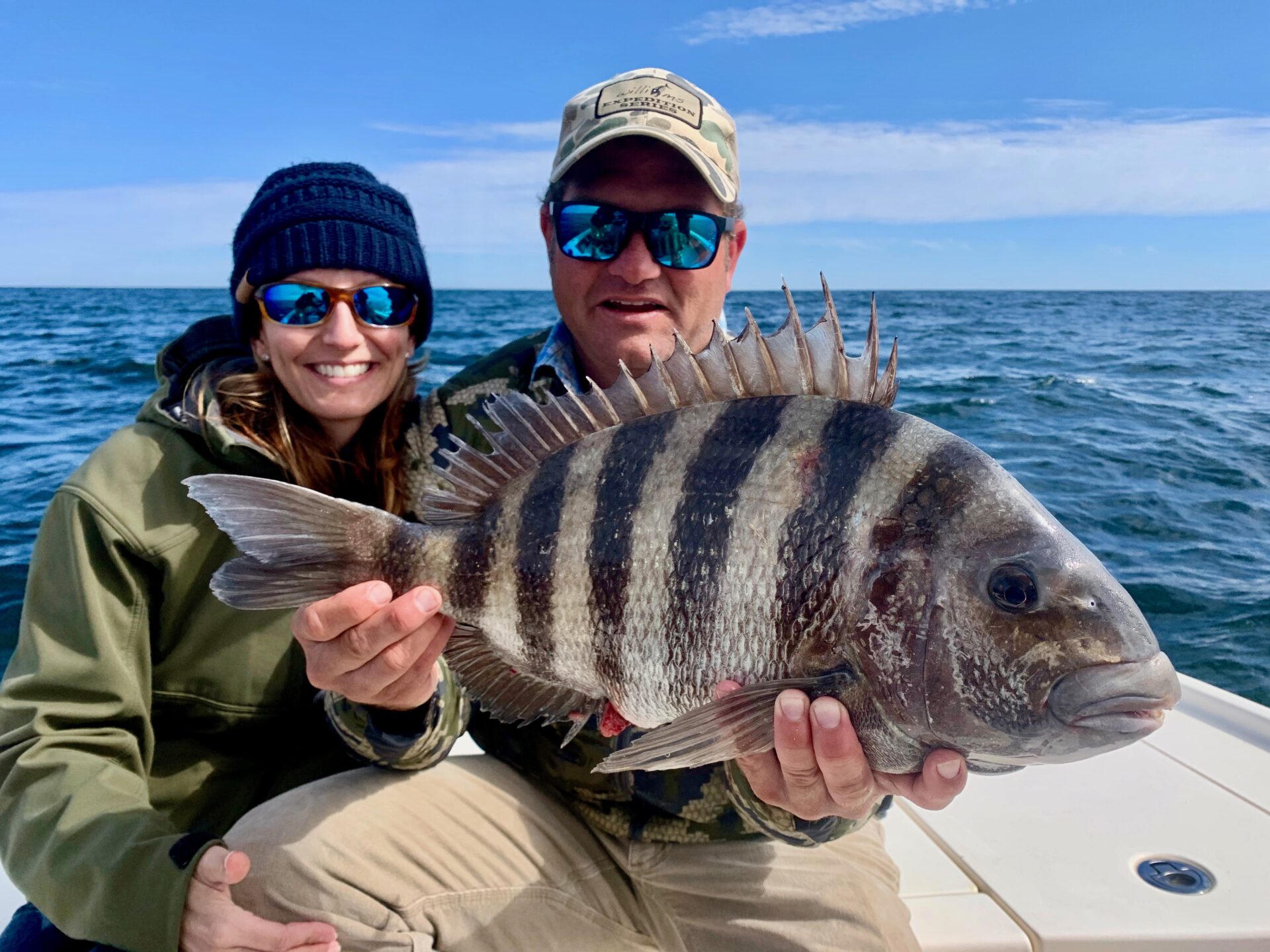 Planning Your Winter Fishing Adventure
Planning a winter fishing trip is all about what you're looking for. Maybe you want a peaceful day inshore, or perhaps a bit of adventure nearshore. At Carolina Guide Service, we get that each angler's different. That's why we take the time to talk with you, understand what you're after, and then we tailor your trip accordingly.
Whether you're new to fishing or an old hand at it, we'll set you up with a trip that suits your style. And it's not just about where you fish; it's about the whole experience. Want to try fly fishing? We can do that. Bringing the family? We've got you covered. Looking for a certain type of fish? We know the best spots.
Start Your Winter Fishing Adventure in South Carolina
There's something special about winter fishing in South Carolina. The crowds thin out, the waters quiet down, and the whole pace just slows. It's a great time to be out on the water. With the right setup, you can have some of the best fishing days of the year.
So why not give winter fishing a try? Carolina Guide Service is here to help you plan that perfect fishing adventure. We know the waters, we know the fish, and we know how to make your trip special. Book your trip today and discover the unique appeal of winter fishing in South Carolina.