Flounder fishing is a fun and relaxing activity for people of all ages. If you're looking to get out on the water and catch some fish this late summer, now is the perfect time to go flounder fishing in the coastal waters of Georgetown, SC.
Flounder in Late Summer Georgetown
The late summer months are the best time to fish for flounder in the coastal waters off of Georgetown, South Carolina. This is because the warm water temperatures are perfect for these fish and what they eat. They are attracted to the baitfish congregating this time of year who are taking advantage of this warm water and preparing for Fall and Winter. Here's everything you need to know about late summer flounder fishing in the area.
What are Flounder?
The flounder is a type of flatfish that is found in saltwater environments all around the world. These bottom-dwelling fish get their name from their unique appearance; when they are born, flounders an eye on both sides of their heads. However, as they mature, one eye migrates to the other side of their head so that both eyes point upward. This allows flounders to blend in with their surroundings and ambush their prey more effectively.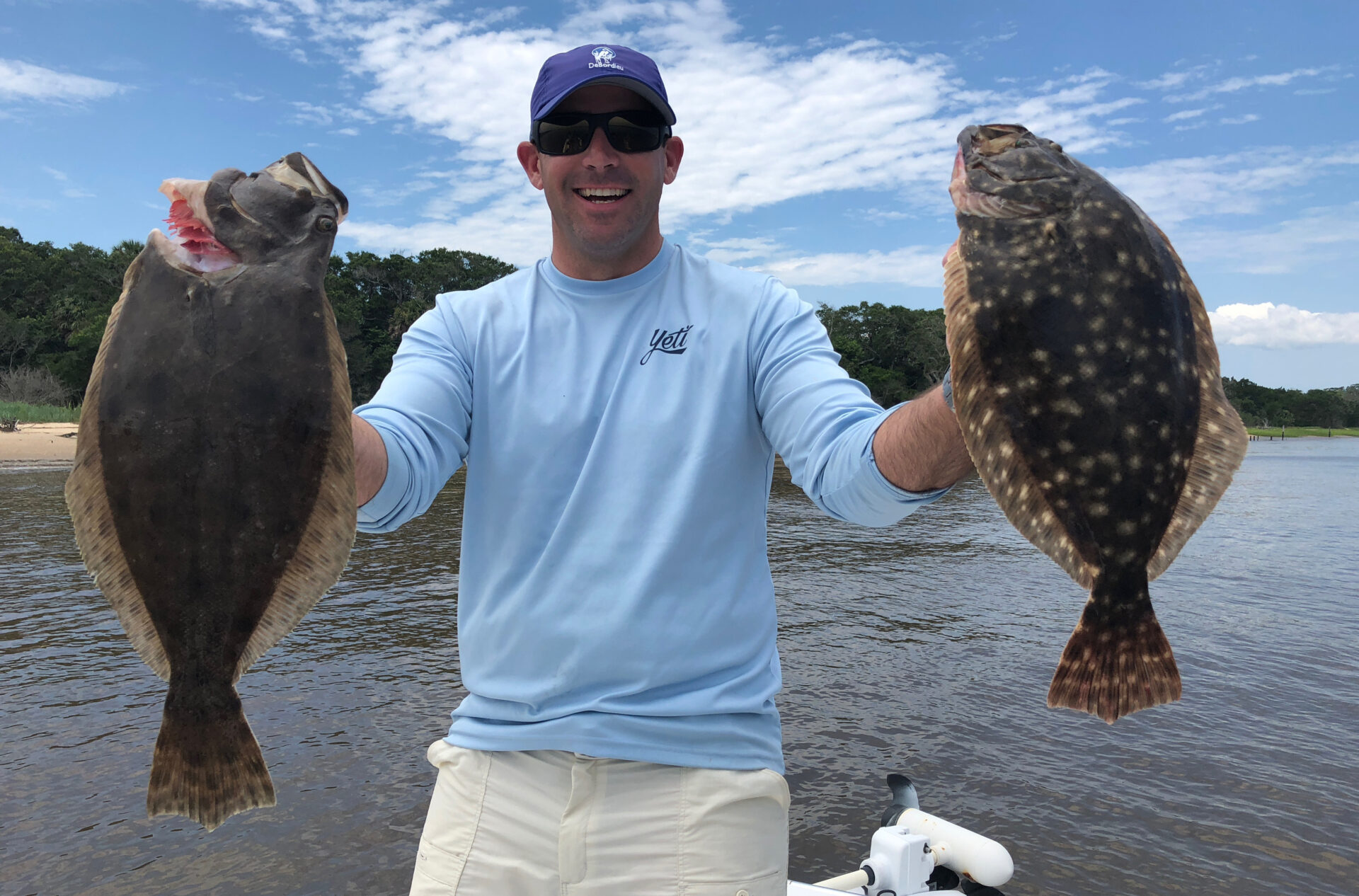 Flounder in Georgetown
Flounders can be found in many saltwater habitats, including reefs, estuaries, sandbars, and grass flats. In Georgetown, SC, flounder can often be found near docks and oyster beds. The best way to find flounder is to scope out all areas these fish like to dwell in, like the structures mentioned above. Having multiple spots for fishing is essential so you can rotate them and not scare the fish away from a good place due to too much activity. A good bet for finding flounder and any other type of fish, such as redfish, is to consult with a fishing guide or captain.
Bait to Use
When fishing for flounders, live bait is always a good choice. Shrimp are perfect, but cut bait such as squid or finger mullet will also work well. Artificial lures such as jigs and soft plastics are also very effective for catching flounders. An excellent lure combo is a soft plastic grub with a jighead. The important thing is to use bait that is attractive to the flounder and presents a perfect opportunity for the fish to strike. Experiment with different baits and lures until you find something that works well in your particular situation.
Final Word
Late summer is the perfect time to go flounder fishing in Georgetown, SC. With a bit of knowledge and the right equipment, you'll be able to enjoy a day out on the water catching these delicious fish. If you want to get out on the water and still don't know where to start, book your trip today! See what Georgetown, SC has to offer.